Samsung's Gear Sport and Gear IconX 2018
Samsung Electronics America, Inc. announced e Gear Sport and Gear IconX 2018 will be available in the U.S. starting October 27, 2017. Joining a full suite of Samsung wearables available this holiday season, the Gear Sport is a stylish, robust and 5 ATM water resistant fitness smartwatch with iconic circular bezel and built-in GPS, while the Gear IconX 2018 wireless earbuds are designed for comfort to track fitness goals and enjoy offline music while offering improved battery life. Samsung's portfolio of wearables are uniquely designed for different consumers to meet their needs and fit into their lifestyle.
"Samsung's new smartwatches and cord-free earbuds make wellness management simpler and easier," said Alanna Cotton, Vice President Marketing, Samsung Electronics America. "Whether you want to get fitness insights or enjoy your favorite music, Gear Sport and Gear IconX 2018 blend style with functionality to help you manage your health and get the most out of your day."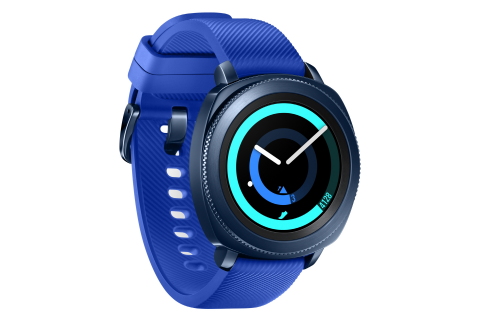 Gear Sport
Sporting military-grade1 durability, a 1.2-inch Super AMOLED display, and signature design touches like a circular bezel for easy navigation, and a form factor inspired by traditional watches, the Gear Sport is the latest in a line of wearable smart devices from Samsung which are as stylish as they are functional. With 5 ATM water resistance2 and swim tracking, real-time heart rate monitoring, auto activity detection, and Spotify's offline mode that lets users listen to their favorite music anywhere; the new Gear Sport lives at the intersection of lifestyle and fitness.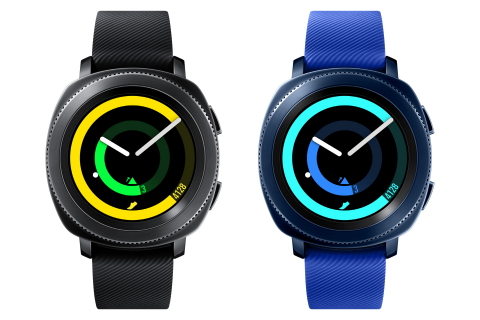 Additionally, with a variety of custom watch bands to go along with Gear Sport's traditional watch design, the smartwatch can be dressed up or down for any occasion. Available in Blue and Black, Gear Sport is $299.99 and will be available in the U.S.starting October 27, 2017 through Amazon, Best Buy, Macy's and U.S. Cellular3.
Gear IconX 2018
The second-generation Gear IconX 2018 cord-free earbuds let you effortlessly listen to your favorite music – making your daily commute more enjoyable or helping you get more from your workout. With 4GB of internal storage, music can be enjoyed on and offline by transferring songs from a Samsung smartphone4 or PC, or accessing your favorite streaming music service through Bluetooth connectivity. With a simple tap and hold of the earbuds when connected to a Galaxy S8, Galaxy S8+ or Galaxy Note8, users can control their music or smartphone with just their voice through Bixby.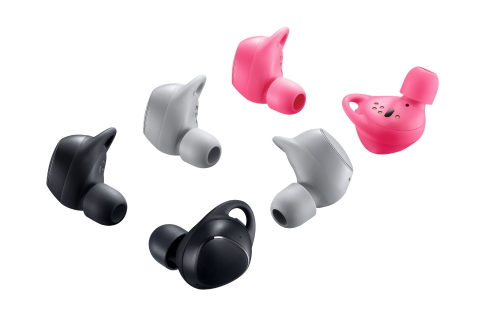 The updated design comes in Black, Gray and Pink and is ergonomic and lightweight so Gear IconX 2018 earbuds are secure, comfortable and stylish to use. For the fitness enthusiast, the Gear IconX 2018 automatically tracks your running routines and features a standalone built-in Running Coach.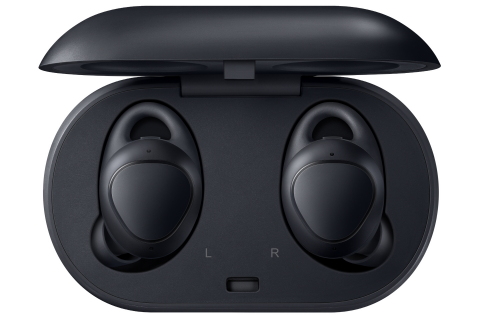 With an improved battery life of up to five hours of Bluetooth streaming, up to seven hours of MP3 listening standalone mode and up to four hours of talk time, users can enjoy a seamless experience whether tracking fitness activities, talking via Bluetooth or listening to music. The Gear IconX 2018 is $199.99 and will be available in the U.S. starting October 27, 2017  through Amazon, BestBuy.com, Sprint and U.S. Cellular5.
Samsung Gear Sport Specifications

Gear Sport
Color
Black, Blue
Display
1.2" Circular Super AMOLED

360 x 360, 302ppi

Full Color Always On Display

Corning ® Gorilla ® Glass 3

AP
Dual Core 1.0 GHz
OS
Tizen
Size
42.9(W) x 44.6 (H) x 11.6 (D) mm

50g (without band)

Strap
20mm
Memory
4GB Internal memory, 768MB RAM
Connectivity
Bluetooth® v4.2, Wi-Fi b/g/n, NFC, GPS/GLONASS/Beidou
Sensor
Accelerometer, Gyro, Barometer, HRM, Ambient light
Battery
300mAh
Charge
Wireless charging
Durability
5 ATM water resistance

MIL-STD-810G

Compatibility
Samsung Galaxy: Android 4.3 or later

Other Android: Android 4.4 or later

iPhone 7, 7 Plus, 6S, 6s Plus, SE, 5 *iOS 9.0 or later
Samsung Gear IconX (2018) Specifications

Gear IconX (2018)
Color
Black, Gray, Pink
Size
Earbud: 18.9 (W) x 21.8 (D) x 22.8(H) mm/ Case: 73.4 (W) x 44.5 (D) x 31.4(H) mm
Weight
Earbud: 8.0g per earbud / Case: 54.5g
Memory
4GB (per earbud)
Connectivity
Bluetooth® v 4.2
Sensor
Accelerometer, IR, Capacitive Touch
Battery
Earbud: 82mAh / Charging Case: 340mAh
Play time: up to 7 hours (Standalone Mode) / up to 5 hours (Bluetooth Mode)
Talk time: up to 4 hours
※ The charging case provides1 extra charge on the go
USB
2.0 & Type-C
Speaker
5.8pi Dynamic Driver
Compatibility
Android 4.4 or later

iPhone 7, 7 Plus, 6S, 6s Plus, SE, 5 *iOS 9.0 or later

Audio
Audio Formats: MP3, M4A, AAC, WAV, WMA (WMA v9)
Audio Codec: Samsung Scalable Codec, SBC
Voice Guide
Language

English (U.S.), Chinese (China), German (Germany), French (France), Spanish (U.S.), Korean
(South Korea), Italian (Italy), Russian (Russia), Japanese (Japan)
1Gear Sport and Gear Fit2 Pro are MIL-STD-810G certified.
2Gear Sport has ISO 22810:2010 certification for 5 ATM rating of 50 meters (165 feet) under specific conditions. This means that the device is safe to wear while walking in the rain or showering, and may be used for shallow-water activities like swimming in a pool or ocean. However, the Gear Sport should not be used for scuba diving, waterskiing, or other activities involving high-velocity water or submersion below shallow depth.
3Colors and availability dates may vary by retailer
4The Gear IconX is compatible with devices running Android 4.4 and above.
5Availability dates may vary by retailer