ASTRO Gaming A20 Wireless Headset Now Available
ASTRO Gaming unveiled the latest entry into its new line of essentially featured gaming headsets with the launch of the studio's ASTRO A20 Wireless Headset. The ASTRO A20 Wireless Headset is designed to make gameplay more immersive, exciting and memorable with a category-leading set of features and enhancements.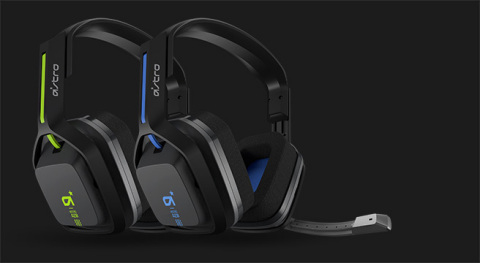 The companion to the studio's recently released ASTRO A10, the ASTRO A20 Wireless Headset is a robustly featured wireless audio solution designed to make ASTRO Gaming's renowned build quality, enhanced comfort and audio fidelity more attainable. The ASTRO A20 features two models compatible with PlayStation®4, Windows 10 PCs and Mac iOS, and two models compatible with the Xbox One family of devices (Xbox One, Xbox One S, Xbox One X), Windows® 10 PCs and Mac iOS.
ASTRO Gaming also announced the release of custom ASTRO A20 Wireless Headset: Call of Duty Edition headsets in advance of the launch of the highly anticipated Call of Duty®: WWII on November 3, 2017. The new ASTRO A20 Wireless Headset: Call of Duty® Edition features unique PlayStation and Xbox colorways with classic Call of Duty® franchise iconography.
The ASTRO A20 Wireless Headset feature set includes:
ASTRO Audio – Experience audio exactly as the developers intended with ASTRO Audio, delivering accurate and precise audio performance from every source. A20's feature 40mm drivers that provide audio fidelity tuned specifically for a competitive edge.
ASTRO Comfort and Quality – Engineered for extended gaming sessions featuring comfortable cloth ear cushions, the ASTRO A20 is lightweight and easily adjustable. In addition, the durable headband ensures the headset will withstand wins, losses and everything in between.
Low-Latency 5.8GHz Wireless – Unique among its competition, the ASTRO A20 features 5GHz technology that provides secure wireless connectivity between the A20 headset and remote transmitter. This helps eliminate interference from other wireless devices and keeps audio output in-sync with video sources.
Powerful ASTRO Command Center (ACC) Software – The ASTRO A20 can be used with ASTRO's free ACC software. Adjust Noise Gate, Side Tone and microphone levels for crystal clear communication, create your own EQ settings, and update the headset's firmware.
Precision Boom Mic – The ASTRO A20 includes a precise, uni-directional mic that's optimized for Xbox One, PlayStation 4 and Windows PC. The A20 features Flip-to-Mute functionality, which mutes voice output and conveniently stows the microphone when not in use.
Intuitive On-Board Controls – The ASTRO A20 features a highly intuitive and powerful set of on-board controls including: Game: Voice balance, EQ Mode select, Master Volume, and Power. These ensure that seamless adjustments can be made even in the most competitive gaming scenarios.
Custom EQ Modes – Three EQ modes presets are available. These include ASTRO (tuned with precise bass for general gaming), PRO (tuned for precise mid and high detail for streaming and pro gaming) and STUDIO (neutral for accuracy and best for movies and music). You can create, customize, save and share EQ profiles to suit any listening experience or environment.
Dolby® Atmos & Windows Sonic Ready (XB1/PC) – Experience stunning multichannel positional audio and enjoy pinpoint spatial accuracy as the ASTRO A20 supports Dolby Atmos & Windows Sonic surround sound on Xbox One and Windows 10 PCs. Dolby Atmos requires app store purchase.
15+ Hour Battery Life – Play for extended periods with more than 15 hours of battery life. Game freely knowing your gear can keep up with you on marathon gaming sessions.
The ASTRO A20 Wireless Headset is available from major participating retailers for $149.99 USD. The ASTRO A20 Wireless Headset: Call of Duty® Edition is available for $159.99 USD.