California Pizza Kitchen Introduces Fresh New Flavors for Fall
From savory to sweet, to spicy and tart, California Pizza Kitchen has all the freshest fall flavors covered with their new seasonal menu items. Featuring a series of inventive creations, CPK's fall menu includes items such as: spicy Chile-Braised Short Ribs & Chipotle Mac 'n' Cheese, Roasted Garlic Chicken with Seasonal Vegetables, and sweetly spiced Pumpkin Cheesecake. New seasonal hand-crafted beverages include the vibrant Sparkling Sunset Sangria, dark and fruity Blackberry Bramble cocktail, and the sophisticated, non-alcoholic Blackberry Tea Thyme. In addition, CPK expands its permanent menu with seven fan-favorite menu items, from Power Bowls to Piadinas, craft cocktails and more, previously offered regionally or for a limited-time.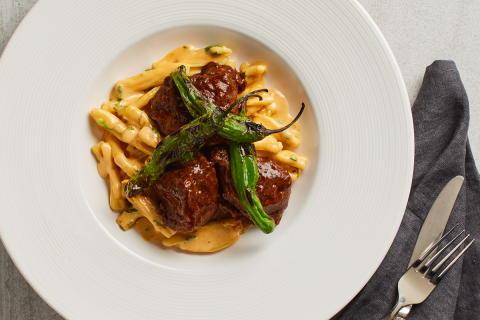 Available at CPK restaurants nationwide for a limited time, the new fall menu features the following items made fresh to order:
Chile-Braised Short Ribs & Chipotle Mac 'n' Cheese: Tender, boneless beef short ribs braised in Pinot Noir and smoked ancho chile, served over spicy chipotle mac 'n' cheese with grilled shishito peppers, fresh cilantro & scallions.
Roasted Garlic Chicken with Seasonal Vegetables: Pan-roasted chicken breast in lemon-garlic sauce with hearth-roasted fingerling potatoes, cauliflower, Mediterranean herbs and seasonal vegetables.
Pumpkin Cheesecake: Served on a ginger crumb praline crust with fresh whipped cream and a drizzle of praline sauce.
Blackberry Bramble: Made with Bacardi® Limón, ginger beer, Monin® Blackberry syrup and fresh lemonade topped with blackberries.
Blackberry Tea Thyme: A non-alcoholic blend of freshly brewed iced tea, lemonade and Monin Blackberry syrup hand-shaken with thyme sprigs and fresh blackberries.
Sparkling Sunset Sangria: A mashup of California merlot and French rosé, this sangria brings Francis Ford Coppola Merlot together with the refreshing blend of M. Chapoutier "Belleruche" Rosé, St. Germain Elderflower, agave nectar, fresh lime and sparkling water.
CPK Expands Permanent Menu
"In addition to our new fall seasonal menu items, we're also expanding our permanent menu with seven exciting dishes and drinks that really showcase our reputation for culinary creativity and fresh, unique flavors," Sullivan continued. "Previously offered for a limited time or on a regional basis, these new fan-favorites received tremendous guest feedback, and now we're proud to offer them to our guests nationwide as part of our permanent menu."
CPK's new permanent menu items include:
Piadinas: Folded pizza-style sandwiches baked in CPK's hearth oven.

Ancho Chile Short Rib Piadina: Made with tender short rib, crushed tomato sauce, wild arugula, Mozzarella and Parmesan cheeses.
Smashed Chicken Meatball Piadina: Housemade chicken meatballs, crushed tomato sauce with wilted baby kale, fresh herb gremolata and Parmesan mustard aioli.

Power Bowls: Protein-packed with super grains and layered with fresh veggies.

Banh Mi Bowl: Featuring quinoa, baby kale, fresh cilantro & mint topped with grilled chicken, watermelon radish, fresh avocado, cucumber, carrot, bean sprouts, scallions and sesame seeds. Served with housemade chili-lime vinaigrette and serrano peppers.
Santa Fe Bowl: Featuring cilantro farro and spinach topped with lime chicken, tomatoes, sweet corn, black beans, red cabbage, fresh avocado, poblano peppers and toasted pepitas; served with housemade poblano ranch.
Tomato Basil Bisque: A velvety tomato bisque with a touch of cream, topped with housemade garlic butter croutons.
Cha Cha Agua Fresca: A tasty concoction of Sauza® Cucumber Chili Tequila, Cazadores® Reposado Tequila, cucumber, pineapple juice and agave sour.
Whiskey Cider Press: A rich blend of Maker's Mark® Bourbon, apple cider, lemonade, ginger ale and spiced tart cherries.
To learn more about CPK's fall menu and check the availability of items in your area, please visit http://www.cpk.com/menu/.
Download CPK's Pizza Dough® Rewards app for iPhone and Android and check in to begin earning rewards for dining creatively.