Zoës Kitchen Introduces Baked Falafel and New Mediterranean Family Dinners
Zoës Kitchen, a fast-casual Mediterranean restaurant group, announced the launch of new menu offerings, including baked falafel, a new gluten-free and vegan protein option, and three new Mediterranean Family Dinners.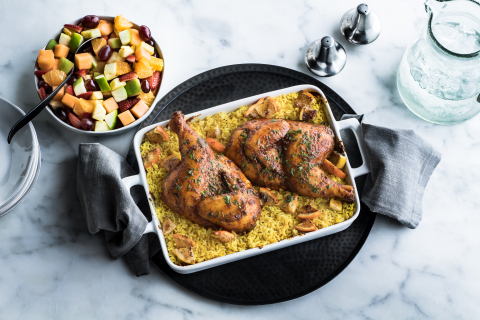 The new menu offerings include a Mediterranean classic and savory flavors from Morocco and Italy:
NEW Baked Falafel: Traditionally prepared with chickpeas combined with herbs and spices, then baked instead of fried. Our baked falafel carries about half the calories of traditional fried falafel. This vegan, high-fiber and gluten-free protein option can be found throughout the menu:

Salads – Add baked falafel as a protein to any salad.
Baked Falafel Pita – Pita topped with baked falafel, Greek tzatziki, Israeli skhug, Mediterranean relish, cabbage, feta and fresh dill.
Mediterranean Bowls – Add baked falafel as a protein to any Mediterranean bowl.
Fresh Sides – Add three baked falafel with Greek tzatziki and fresh dill as a side to any entrée.

NEW Mediterranean Family Dinners: These dinners provide convenience at a great value and are available in two sizes (small at $32.99, which serves 3-5 and includes two sides; large at $42.99, which serves 4-6 and includes two sides, Greek Salad and Hummus & Pita).

Moroccan Citrus Roasted Chicken – Zesty pan roasted whole chicken seasoned with bright Mediterranean herbs and spices including cinnamon, clove, turmeric and ginger. Served with new a side, Turmeric Rice, which contains hints of citrus and turmeric spice that is a good antioxidant and anti-inflammatory source.
Sorrentina Baked Ravioli – Baked ravioli filled with mozzarella, parmesan, ricotta and spinach, topped with creamy tomato sauce, garnished with fresh mozzarella, grated parmesan cheese and basil pesto.
Baked Falafel – Baked falafel with Greek tzatziki, Israeli skhug, Mediterranean relish and fresh dill. Served with pita bread.
These items are also available for catering and include vegetarian, vegan and gluten-free options, providing our guests with additional fresh choices for business or social occasions.
For more information, please visit www.zoeskitchen.com