Cicis New York-Style Pizzas And Desserts
Cicis is inviting guests to grab a slice of New York with the launch of two New York-Style Pizzas and a New York-inspired dessert with Cheesecake Brownie Swirl, all part of its famous unlimited pizza, pasta, salad and dessert buffet.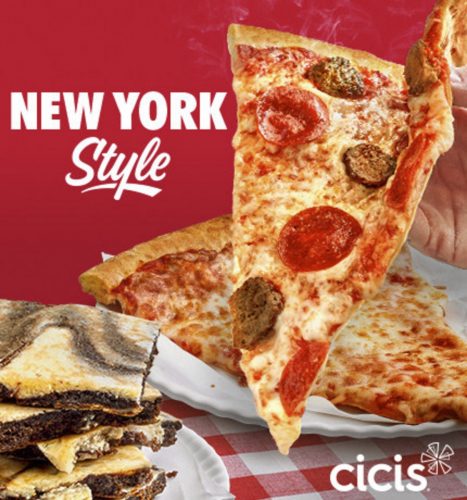 Available for a limited time, Cicis' New York-Style Pizzas feature a larger 16-inch crust – just right for folding like a true New Yorker – and are available in Meatball Pepperoni and classic Cheese. Both new pizzas are made with a new thin, crispy crust, a new slightly sweet sauce and 100 percent real cheese.
The Cheesecake Brownie Swirl is the perfect sweet ending to the buffet, featuring thick swirls of creamy cheesecake baked into rich, fudgy brownies for a true New York taste. Both varieties of the extra-large, 16-inch New York-Style Pizza and the brownies are available To Go. The Meatball Pepperoni Pizza is $8.99, Cheese is $7.99 and an order of 24 brownies is just $5.99. (Pricing may vary by location.)
March 12-April 2, guests can try a New York-style Pizza To Go for $1 off by downloading a coupon at http://bit.ly/1OffNY.