Cunard Unveils 2020 Voyage Program
Luxury cruise brand Cunard unveiled its 'Oceans of Discovery' voyage program featuring sailings from November 2019 through April 2020. Flagship liner Queen Mary 2 along with Queen Elizabeth and Queen Victoria will call at 123 destinations in 48 different countries, including 10 exciting maiden calls in Japan, Australia and Papua New Guinea.
Whether it is a two-night short break or a full 113-night world voyage, the Cunard fleet will offer a blend of iconic, world-class cities along with smaller, lesser-known but equally charming destinations. Oceans of Discovery, by Cunard includes:
The World Voyage, by Cunard: Pioneering the concept of world cruising in 1922, Cunard has undertaken more world voyages and sent more ships around the globe than any other passenger line. In 2020, Queen Mary 2 will offer the only true World Voyage lasting between 99 and 113 nights.
Grand Voyages, by Cunard: These itineraries offer more days at sea with the luxury of time, and call on the world's most iconic ports, creating unforgettable journeys.
Regions of the World, by Cunard: These carefully curated voyages showcase the most fascinating regions on earth, balancing the exploration of shore days with the serenity of time at sea.
"Cunard's iconic three Queens will traverse the globe during our 2020 program," said Josh Leibowitz, senior vice president, Cunard North America. "These carefully curated itineraries offer extended time in port so guests have more time to explore each destination, including many overnight stays featuring two full days of exploration in cities such as Cape Town, Auckland and Buenos Aires."
Cunard World Club members will be able to book exclusively beginning on March 19, 2018, and booking will open for the public on March 20, 2018.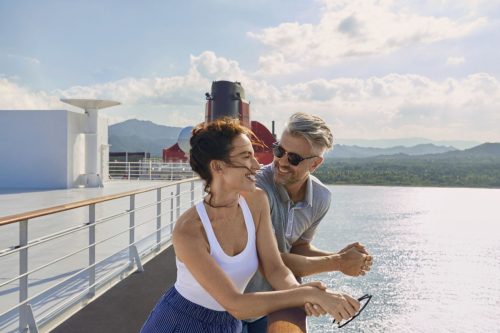 Queen Mary 2
Queen Mary 2 will operate Cunard's only World Voyage in 2020 and will undertake her classic East-West Voyage to Australia and Asia, including the Mediterranean, Arabian Gulf, Indian Ocean and Southern Africa. The World Cruise can be taken as a round-trip from either New York (113 nights) or London (99 nights). Shorter voyage options range in length from one-to-three weeks and can be combined in many ways allowing guests to create the ideal travel experience to the iconic cities of their choice.
The beginning of the voyage is routed via the Mediterranean Sea and Suez Canal to the Arabian Gulf and across the Indian Ocean, entering Asia via the Malacca Straits. From there Queen Mary 2 will head north via Vietnam to Hong Kong before heading south to Australia. The final leg of the voyage is the return to London from Australia, which is routed via South Africa. The voyage includes more overnight stays than in any of Queen Mary 2's world voyages in the past 10 years.
Queen Mary 2's 2020 deployment features:
The World Voyage, by Cunard
Grand Voyages, by Cunard and Regions of the World, by Cunard
35 voyage combinations ranging from 7 to 113 nights
38 ports in 26 countries
Overnight stays in

Haifa

,

Dubai

,

Singapore

,

Hong Kong

,

Sydney

, and a double overnight in

Cape Town

Transits the Suez Canal
38 UNESCO World Heritage Sites
Queen Elizabeth
In December 2019 and the first half of 2020, Queen Elizabeth will offer a series of round-trip voyages from international ports with deeper, richer and more regionally-focused itineraries. In between these deployments will be exotic grand voyages that capture the imagination and spirit of adventure in travel lovers across the world.
Queen Elizabeth will operate six round-trip voyages from Melbourne and two from Sydney, covering the popular regions of South Australia, Tasmania and New Zealand as well as a new itinerary that features the exotic paradise of Papua New Guinea with maiden calls in Conflict Island and Kiriwina. The ship will offer multiple sailings in Japan, making five maiden calls to Japanese ports in 2020.
Queen Elizabeth's 2020 deployment features:
Grand Voyages, by Cunard and Regions of the World, by Cunard.
75 voyage combinations ranging from 2 to 49 nights
67 ports in 21 countries
Overnight stays in

Cape Town

,

Auckland

,

Singapore

,

Hong Kong

and

Shanghai

Scenic cruising in Fiordland National Park,

New Zealand

, as well as Hubbard Glacier and the Inside Passage
15 UNESCO World Heritage Sites
Queen Victoria
Queen Victoria's winter deployment consists of a series of European departures in November and December 2019, followed by an exotic winter escape round-trip experience to South America that offers a mix of relaxation and exploration. The ship will offer longer stays in ports such as Rio de Janeiro and Buenos Aires, as well as overnights in Manaus, Rio de Janeiro, Buenos Aires, and Callao for guests to immerse themselves in the beauty and vibrancy that South America has to offer. Stunning scenic cruising will include the Amazon River, the Magellan Straits, Cape Horn, the Chilean Fjords and the Panama Canal.
Queen Victoria's 2020 deployment features:
Grand Voyages, by Cunard and Regions of the World, by Cunard
23 voyage combinations ranging from 2 to 82 nights
41 ports in 20 countries
Overnight stays in Manaus,

Rio de Janeiro

,

Buenos Aires

and Callao
Scenic cruising in the Amazon River, Panama Canal, Magellan Straits, around Cape Horn and the Chilean Fjords
22 UNESCO World Heritage Sites
World Voyage Benefits
Those booking the Queen Mary 2 World Voyage from New York or Southampton (departing Jan 3 and 10 respectively), or the Queen Victoria South America Voyage from Hamburg, Southampton or Fort Lauderdale (departing Jan 2, 10, and 21 respectively), will receive the following benefits:
Welcome on board reception
Services of a World Voyage Concierge and use of private lounge
Unique commemorative gift
World Voyage cocktail parties
Shoreside Gala Dinner / Cocktail Party
Daily gratuities
Early Booking World Voyage Benefits
Guests traveling on a Full World Voyage receive a variety of exclusive benefits in addition to Cunard's standard of quality and aim for perfection on every voyage. Full World bookings made by November 30, 2018 will receive the following:
Reduced Deposit
Onboard Credit of up to

$3,000

per stateroom
Complimentary Captain's Wine Reception (in Oceanview, Balcony and Grills Suites)
Alternative Dining Credit (in Oceanview, Balcony and Grill Suites)
Ground Transfers (in Oceanview and Balcony) and Upgraded Private Transfers (in Grill Suites)
Laundry Service (in Oceanview, Balcony and Grill Suites)
New Grill Benefits
Guests booked in the Grills suite on voyages 7‐nights or longer will receive Free Gratuities and Free Drinks. Promotion may not combine with other offers. Promo Code: ZED
For full details and terms about Cunard's 2020 Voyage Program, please visit http://www.cunard.com/cruise-types/winter-highlights/.
For more information about Cunard, or to book a voyage, contact your Travel Consultant, call Cunard Line at 1-800-728-6273 or visit www.cunard.com.
For travel agents interested in further information, please contact your Business Development Manager, visit OneSource or call Cunard toll free at 1-800-528-6273.