First look at HGTV Dream Home Giveaway 2018 located in Gig Harbor, Washington
The 22nd edition of HGTV® Dream Home is putting down roots in Gig Harbor, Washington, where picturesque scenery, a quaint mix of old and new and a lifestyle that centers around its maritime history make it one of the most charming towns in the Pacific Northwest.
The winner of the grand prize package valued at over $1.8 million will receive the completely remodeled and fully furnished home, a new Honda Accord, plus $250,000 from national mortgage lender Quicken Loans®. The sneak peek at this striking, one-of-a-kind makeover is now available at HGTV.com/HGTVDreamHome.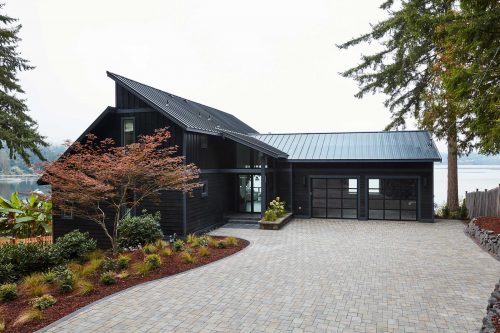 Interior designer Brian Patrick Flynn has taken a formerly dated home and transformed it into a ruggedly elegant waterfront escape with a design aesthetic best described as "livable modernism." Situated on a quiet and historic peninsula with unobstructed views of Puget Sound as the backdrop, the fully remodeled tri-level 1970s contemporary home maintains a coastal and casual look that embodies Pacific Northwest style and places a strong emphasis on natural materials.
"Gig Harbor is truly the kind of place that dreams are made of, and we know our fans are going to be captivated by this town's uncommon beauty, rich heritage and love of all things water," said Ron Feinbaum, General Manager of HGTV Home Promotions. "In concert with builder Choice Construction and architect Eric Gedney, we have created a thoroughly modern residence with design inspiration to spare that represents the very best of what it means to be an HGTV Dream Home."
The approximately 3,500-square-foot house has four bedrooms and three and a half baths and sits on property packed with lush evergreens. It is characterized by angular, asymmetrical architecture and a unique mashup of rugged, coastal and modern materials. Its updated maritime interior is outfitted with soothing shades of gray pulled from the moody landscape seen through the home's wealth of picture windows, which provide stunning views from almost every room. The contemporary architecture of the house is softened with expert layering of textures, colors, patterns and shapes to add warmth and personality.
The official entry period for the HGTV Dream Home Giveaway 2018 will run from Wednesday, December 27, 2017 through Friday, February 16, 2018. Eligible viewers can visit HGTV.com for full details and the official rules.
Viewers can catch the DIY Behind the Build: HGTV Dream Home special chronicling the home's remodeling process, which premieres Thursday, December 28 at 11 p.m. ET on DIY Network, along with the HGTV Dream Home Special, which airs New Year's Day at 8 p.m. ET on HGTV.
Sponsors of HGTV Dream Home 2018 include Honda; Lumber Liquidators; Quicken Loans®; Wayfair; Belgard®; Cabinets To Go; Delta Faucet; CESAR® Canine Cuisine; Peloton Interactive, Inc.; Trex®; The Sherwin-Williams Company; SimpliSafe Home Security; Sleep Number; Inspired Closets; and Bose Corporation. To learn more about the giveaway, visit HGTV.com/HGTVDreamHome.