How to pack travel essentials for a road trip
Whether you're planning a cross-country vacation or just a weekend getaway, packing for a road trip doesn't have to be a daunting task. Creating a packing list of essentials can be the first step toward avoiding unnecessary stress and making your trip one to remember.
Of course, that list should start with the items you should never leave home without like your driver's license and proof of insurance, but it should also include pertinent information about your destination, like the trip's itinerary and reservation confirmations. Don't forget a map or printed directions in case your GPS dies or your phone loses service.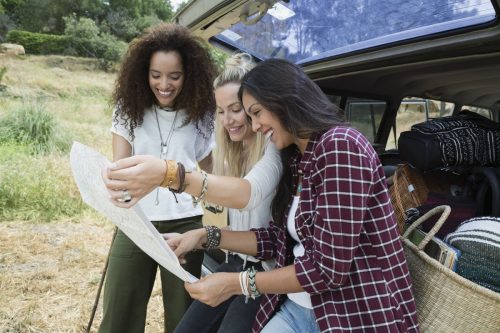 While even the most experienced travelers have reached their destinations only to find they left a necessity or two behind, this handy packing guide can set you on the road to success and help you avoid buying a new set of sunglasses or portable charger en route to your destination.
Safety
Roadside Emergency Kit. In addition to having your owner's manual and the equipment necessary to change a flat tire, including a lug wrench and portable jack, keeping some additional safety supplies in your vehicle can come in handy in case of a breakdown. Consider including items like jumper cables, a tire pressure gauge, road flares, a poncho, gloves, a flashlight, a small tool set, a small fire extinguisher, paper towels or rags and duct tape.
First Aid Kit. Just as your car may need patched up while on the road, someone in the traveling party may need a little TLC between stops. Some items to include: bandages, aspirin or ibuprofen, antiseptic spray, cotton balls or gauze, tweezers, hand sanitizer, antibiotic spray and bug spray.
Entertainment
Reading Material. A road trip is the perfect time to dive into a good book.
Technology. While cellphones often fall into the "essential" category, there are other devices that can make the miles pass by a little easier, like a laptop or tablet, but don't forget headphones and chargers for any gadgets you decide to bring.
Comfort
Toiletries. Regardless of where your travels take you, personal hygiene will rank near the top of the list for each passenger in the vehicle. Ensure you've got your bases covered with soap, shampoo, conditioner, a comb or brush, a toothbrush and toothpaste, deodorant, shaving supplies, lotion, sunscreen and any additional hair accessories you may need.
Snacks. It's often cheaper to pack your own snacks at home than stopping at a gas station or a drive-thru, plus you can pack some healthier choices. Consider options such as trail mix, granola bars, crackers, and dried fruits and vegetables, or if you have room for a cooler, consider fresh fruits and veggies as well as some bottled beverages.
Accessories. Long periods of time spent in the car can get uncomfortable, so consider bringing along a neck pillow and blanket to make the ride more enjoyable, and don't forget to grab an umbrella in case the elements decide not to cooperate.