KontrolFreek Striker, a Performance Thumbstick
KontrolFreek Striker, a Performance Thumbstick™ set designed to enhance precision and playability in sports video games like Electronic Art's (EA) FIFA series, Psyonix's Rocket League and Konami's Pro Evolution Soccer (PES) series. KontrolFreek Striker's key features include:
A bold neon color scheme and original design inspired by classic Premier League balls.
Increased grip and height (3.6mm) to OEM thumbsticks to improve players' shot accuracy, passes
and overall movement.
Available now for PlayStation 4 and Xbox One at Amazon.com and select international specialty gaming stores.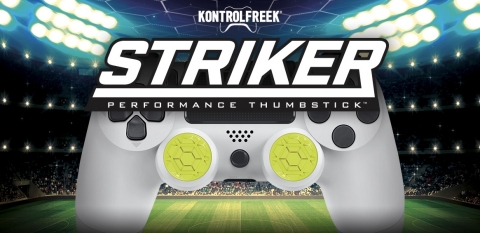 "Whether one calls it football or soccer, it's the world's largest spectator sport and it commands huge international audiences for games like FIFA, Rocket League and PES," said Ashish Mistry, CEO of KontrolFreek. "And whether gamers prefer to score goals with their feet or fenders, players in today's competitive gaming environment require precision to take down opponents. With Striker, we're offering a bold piece of gaming gear that gives players the competitive edge and a customization option they'll love."
Available through select global retailers like Best Buy, GameStop, JBHiFi and Amazon.com.