Mimi's Promotes Healthier Choices With Engaging New Kids Menu
Mimi's has launched a creative new kids menu that features healthy choices and an entertaining experience to make ordering fun for even the youngest diners.
The flipbook-style menu is a charming storybook starring Elle and Pierre, a cat-and-dog best-friend duo traveling through France together. The pair help kids select a main dish, side and drink, with each turn of the menu's three-part pages creating a new scene in the French countryside or city, as Elle and Pierre enjoy picnics, riding trains, dancing – even parachuting.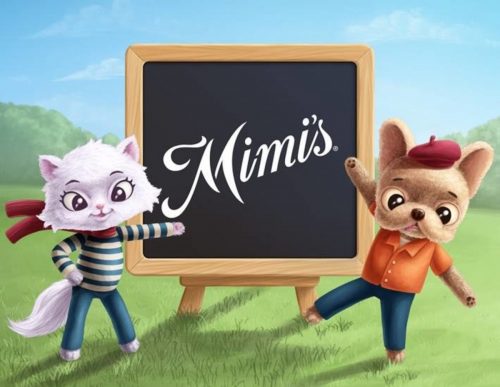 The menu features new items such as French Toast Dippers, freshly baked Kids Waffle, Kids Cheeseburger or Cheese Quesadillas, as well as longtime favorites Puppy Dog Griddle Cakes, Sliced Grilled Chicken Breast, crispy Chicken Tenders, and Kids Fettuccini with Pomodoro Sauce.
Along with their main dish, kids can also select new beverages with their meal, like Honest Kids Appley Ever After or Super Fruit Punch. Last, they can add healthier items to their meals, such as GoGo squeeZ Applesauce and Yoplait Go-Gurt Strawberry Yogurt, for $0.99 each.
The entire kids menu is available all day, for kids 12 years and younger. Mimi's also offers all-day breakfast, every day. For a full menu, locations and hours of operation, go to www.mimiscafe.com/kids.