NBA LIVE 18 is available for Xbox One and PlayStation 4
Electronic Arts Inc. launched NBA LIVE 18, which introduces THE ONE, an all-new dynamic career experience centered around the player. The game offers a unique experience through character progression, extensive gear customization, and narrative branching – a first in the basketball videogame genre. In NBA LIVE 18, THE ONE gives fans the freedom to play how they want, where they want, and with whom they want in the quest for basketball stardom. Players can develop their own unique playstyle from 11 signature abilities and 70 different, upgradable traits, and their own personality with unique customization features including the hottest outfits and sneakers.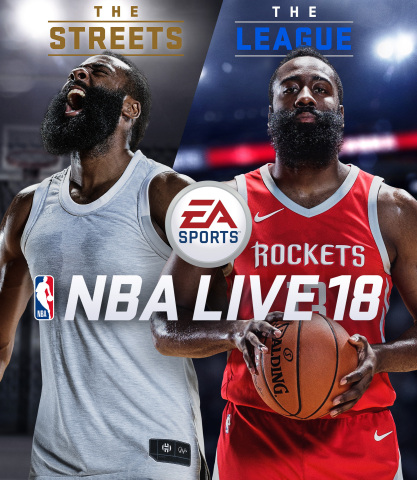 "NBA LIVE 18 delivers a basketball experience with a level of player choice unlike anything that has come before," said Sean O'Brien, Executive Producer on NBA LIVE 18. "We are giving fans a unique opportunity to build their own basketball legacy, playing on iconic courts and in Pro-Am leagues outside the traditional NBA, with a game that's completely open and ever-changing. We're going to continue to offer our fans new experiences through LIVE Events, where they can unlock rewards on their own or with a teammate."
There are many pathways to rise up through the basketball ranks by playing in THE LEAGUE and THE STREETS. For an authentic NBA career experience, THE LEAGUE offers fans the ability to progress from rookie to veteran with their favorite NBA team while playing real NBA action including the NBA All-Star, NBA Playoffs and NBA Finals games. Just like in the NBA, players can earn MVP, All-NBA and Sixth Man of the Year awards, among others.
In THE STREETS, fans can push their career further on legendary Pro-Am courts where competitive challenges and matchups await, including LIVE Events – new, regularly updated challenges that are in-real time to battle opponents in competitive or co-operative games for unique rewards – to build a career in the streets through challenging tournaments and throwback challenges. Games can be played on iconic courts such as Rucker Park in New York City and in leagues such as The Drew in Los Angeles.
In addition to playing in THE STREETS and THE LEAGUE, players will be able to play in the WNBA, another first for the basketball genre. The WNBA's full roster of teams and players will be available in WNBA Play Now, with the teams and player skills specifically balanced to reflect the unique playstyle of the league and its players.
Players looking for a deep and rich basketball experience on their mobile device can also check out NBA LIVE Mobile, available as free-to-download* on the App StoreSM and Google Play™.
NBA LIVE 18 is developed by EA Tiburon and is available now in stores and for digital download worldwide for Xbox One and PlayStation® 4.
*NETWORK FEES MAY APPLY.