Red Robin – Cowboy Ranch Tavern Double and The Grand Brie Burger
The warmer weather isn't the only thing to look forward to this spring! For a limited time, now through June 24, Red Robin Gourmet Burgers and Brews (Red Robin) guests can wrangle up a Cowboy Ranch Tavern Double and The Grand Brie at restaurants nationwide. The southern-inspired Cowboy Ranch Tavern Double is a flavor-packed burger that features two fire-grilled patties, topped with bourbon-infused Whiskey River® BBQ Sauce, ranch, crispy onion straws, American cheese and lettuce on a sesame seed bun. The Grand Brie, an award-winning burger from the 2017 South Beach Wine and Food Festival making its grand entrance to Red Robin's Finest menu, features a fire-grilled, half-pound Black Angus burger with melted Brie cheese, balsamic fig jam, crispy bacon, fresh arugula and mayo on a brioche bun.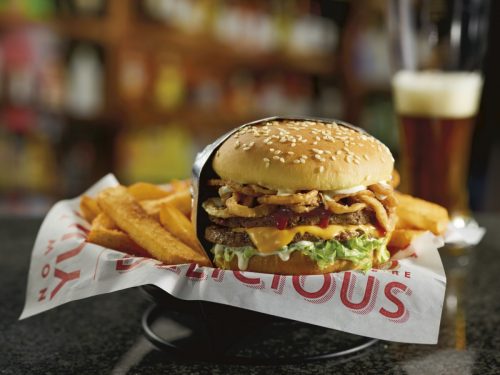 Red Robin is also elevating its popular milkshake lineup with the addition of two new, indulgent offerings. The Chocolate Hazelnut Bliss is a blend of chocolate hazelnut spread and cocoa crisps topped with velvety, chocolate whipped cream and dark chocolate Fruffles®. The Silver Spoon S'mores blends crispy, toasted mini marshmallows and graham cracker crumbs drizzled with chocolate syrup and topped with whipped cream and decadent fudge-dipped graham crackers.
A new appetizer springing into Red Robin restaurants is the sweet and spicy Island Heat Wings, tender and crunchy all-white chicken wings tossed in sweet mango chili sauce, topped with seared pineapple, fresh jalapenos and minced parsley and served with Yukon kettle chips. Red Robin is also introducing a Strawberry Basil Lemonade, to pair with any of the new spring menu offerings, as well as a Strawberry Basil Margarita and White Spanish Sangria for Guests 21 and over.
For more information about Red Robin's spring promo menu items or to find the nearest Red Robin restaurant, visit www.redrobin.com. To sign up for the Red Robin Royalty™ loyalty rewards program, visit www.redrobin.com/royalty.