Starbucks and Chase Launch Starbucks Rewards Visa Card
Starbucks and Chase announced the availability of the Starbucks Rewards™ Visa® Card, a co-brand credit card integrated directly into the Starbucks Rewards™ loyalty program. Customers using the card earn Stars with every purchase both in and out of Starbucks stores wherever Visa is accepted worldwide, and can be redeemed for food and beverage items at more than 8,000 participating* Starbucks locations. Cardmembers will also become members of the Starbucks Rewards loyalty program, receiving exclusive perks and benefits already enjoyed by more than 14 million members daily.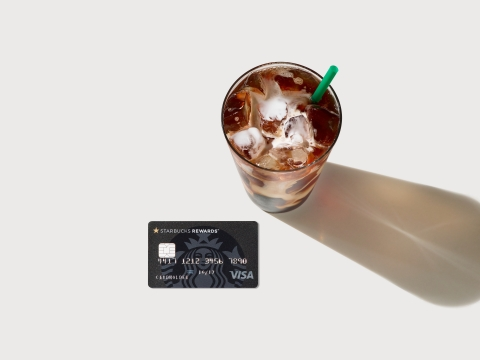 "It's important to us to make earning Rewards as easy for our customers as possible, and the Starbucks Rewards Visa Card is a powerful tool for us to do that because of how easily it fits into their daily lives," said Matt Ryan, executive vice president and chief strategy officer for Starbucks. "This credit card also makes every day more rewarding for Starbucks and Chase customers through the ability to quickly earn Stars and benefits – including more food and beverage Rewards for any occasion."
"We want to give cardmembers who can't live without their Starbucks beverage an easy way to earn more Rewards," said Jennifer Roberts, head of Digital Products for Chase. "The Starbucks Rewards Visa Card lets them earn Stars on every purchase they make so their next cup is that much more rewarding."
Cardmembers will receive a physical card within 7-10 days of their application being approved, and a digital card will be immediately loaded into the Starbucks® mobile app for customers to start earning Stars right away.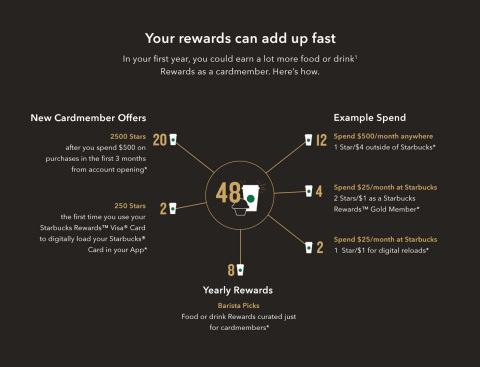 New cardmembers can enjoy the following benefits:
New Cardmember Offer: 2,500 Stars after spending $500 on purchases in the first 3 months from account opening (equal to 20 food or beverage items)
Bonus Stars: 250 Stars when using their Starbucks Rewards™ Visa® Card to load their registered Starbucks Card within the Starbucks® mobile app for the first time
More Stars:

1 Star for every $4 spent outside of Starbucks stores
1 Star for every $1 digitally loaded to their registered Starbucks Card in the Starbucks® mobile app, using their Starbucks Rewards™ Visa® Card, in addition to the 2 stars per $1 earned when paying with their registered Starbucks Card as a member of the Starbucks Rewards™ loyalty program

Instant Gold Status: Cardmembers will automatically receive Gold Status within the Starbucks Rewards™ program
8 Barista Picks: Curated food or beverage Rewards selected by baristas and automatically loaded to the cardmembers Starbucks Rewards account
Starbucks Rewards™ Visa® Card has an annual fee of $49. To apply for the Starbucks Rewards Visa credit card, visit starbucks.com/visacard.
The new credit card is an expansion of the ongoing relationship between the two companies. Chase Merchant Services is the payment processing partner for Starbucks stores in the U.S. and Canada, and Chase Pay is accepted at participating Starbucks stores in the U.S., as well as through the Starbucks mobile app. A second co-branded product, the Starbucks Rewards™ Visa® Prepaid Card will launch later this year.
For more information about the Starbucks Rewards™ Visa® Card, including pricing, terms and conditions, click here.
*At participating stores. See Starbucks.com/terms for details.