Tabby Awards Recognizes Best iPad, iPhone & Android Games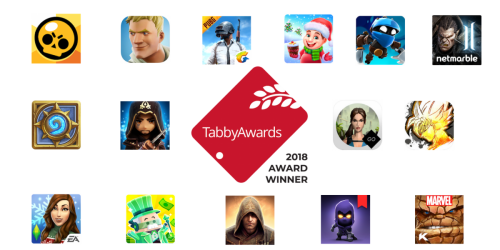 The Tabby Awards has announced the winners of the 2018 Mobile Game Awards competition.
Winning games included Fortnite, MARVEL Contest of Champions, PUBG Mobile, Asphalt 9: Legends, REAL Racing 3, and My Talking Tom 2.
Game publishers with multiple award winners included Lion Studios, Gameloft, Ubisoft, Electronic Arts, Netmarble, and Square Enix.
"With over 1.1 mobile games available today on Android and iOS combined, our mobile gaming award winners represent the top 0.005% games. These are the 'best of the best of the best'," commented Paola Schaw, Executive Producer of the Tabby Awards.
The analytical evaluation component of the award focused on app store user review scores submitted over the course of 2018 to measure user engagement. The qualitative component – benefiting from the Tabby Awards expertise in judging app and game awards since 2012 – focused on user interface, design, and innovation. The degree of tablet-optimization was also a key factor in the assessment of iPad and Android tablet games.
The 2018 Mobile Game Award winners are presented below by device type and operating system category:
### MOBILE GAME AWARDS FOR ANDROID ###
MOBILE GAME AWARDS – ANDROID PHONE:
Arena of Valor: 5v5 Arena Game
Badland Brawl
Battleheart 2
Big Big Baller
Billiards Master 2018
Cash Inc
Command & Conquer: Rivals PVP
Commando Sniper Game: Cover Fire Gun Shooting 2018
Dream Walker
Fantastic Chefs
Garena Free Fire
Gunner's Battlefield World War 2018
Happy Glass
Hero Hunters
Love Balls
MARVEL Spider-Man Unlimited
Popular Wars
Sago Mini Space Explorer
Shadowgun Legends
Snake Dot
Star Trek Fleet Command
Turn Undead 2: Monster
Warhammer Age of Sigmar: Realm War
MOBILE GAME AWARDS – ANDROID TABLET:
Assassin's Creed Rebellion
Faraway 3: Arctic Escape
Life is Strange
N.O.V.A. Legacy
PUBG Mobile
Real Car Parking 2: Driving School 2018
### MOBILE GAME AWARDS FOR IOS ###
MOBILE GAME AWARDS – IPHONE:
Asphalt 9: Legends
Brawl Stars
Candy Crush Friends Saga
Cube Escape: Paradox
Donut County
DRAGON BALL LEGENDS
Draw In
Flip Trickster
Hooked Inc.
Into the Dead 2
Lara Croft Go
MARVEL Contest of Champions
My Talking Tom 2
Noblemen: 1896
Playdead's INSIDE
Real Racing 3
The Sims Mobile
Ultra Sharp
MOBILE GAME AWARDS – IPAD:
Battlelands Royale
Lineage 2: Revolution
MARVEL Future Fight
Offroad Bus Simulator: Real Coach Bus Driving
Riptide GP: Renegade
ROME: Total War