2019 Best Auto Tech Award Winners – Kelley Blue Book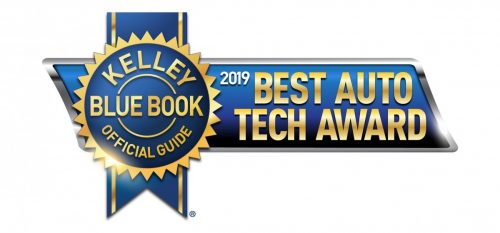 Technology has blossomed into one of the last great differentiators among competing vehicles, and today Kelley Blue Book has named the 2019 Best Auto Tech Award winners that continue to push the digital envelope. The Best Auto Tech Awards honor the models with the most advanced infotainment, convenience and active safety features at a great value to car buyers.
2019 Kelley Blue Book Best Auto Tech: 2019 Ram 1500
The all-new-for-2019 Ram 1500 exemplifies the use of technology to advance what a vehicle is capable of. The 2019 Ram 1500 is available with more than 100 safety features, including advanced safety aids you would expect to see in a premium sedan or SUV: adaptive cruise control, blind-spot monitoring with rear cross-traffic detection, lane-departure warning, a 360-degree surround-view camera, and a guidance assist that helps when parallel parking or maneuvering into a perpendicular space. One of the most impressive, though, is something that's tremendously helpful to truck owners who tow. Connect your trailer to the Ram and within seconds the truck automatically determines the length of the trailer. Once this calculation is done, the Ram's blind-spot monitoring system also takes note of what is on either side of the trailer and alerts the driver if there is a vehicle or object there. Ram uses technology to make the 1500 safer, more efficient, and more luxurious, all in a truck that's more capable than the model it replaces. That this company made an excellent truck even better thanks to use of smart, intuitive tech is why it has earned our 2019 Best Auto Tech Award.
2019 Kelley Blue Book Best Auto Tech – Luxury: 2019 Tesla Model 3
Technology and luxury vehicles go hand in hand. Logical, as the premium segment's shoppers demand that their vehicles effortlessly communicate with their smart phones, provide innovative infotainment functionality, and offer the latest in active safety features. This is a considerable challenge for automakers — fail to seamlessly integrate technology within the vehicle and the driver will be dangerously overwhelmed and confused. Tesla's Model 3 earns the 2019 Kelley Blue Book Best Auto Tech award for Luxury Vehicles because it accomplishes all the objectives with a minimalist driver interface — a single 15-inch high-resolution touch screen mounted at the center of the dashboard — and logical, easy-to-use software. Even the three-spoke steering wheel is clean and uncomplicated, adorned with nothing but a single multifunction scroll wheel on each horizontal spoke.
The systems featured in both models delivered on the automakers' promise of enhancing the driving experience and safety quotient without adding complexity. And when distilled down to its essence, that's what the best in-vehicle tech is all about.