2019 Best Resale Value Award Winners – Kelley Blue Book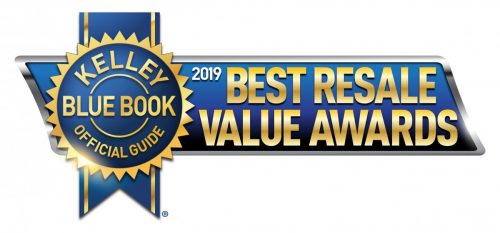 While most car buyers consider the sales price one of the most significant figures when choosing a new vehicle, the experts at Kelley Blue Book recommend shoppers consider a number they won't find on any window sticker: the resale value. Making it easy to shop smart, Kelley Blue Book today announces the 2019 model-year brand and category winners of the annual Best Resale Value Awards, recognizing vehicles for their projected retained value through the initial five-year ownership period.
COMPACT CAR:  Honda Civic

MIDSIZE SUV/CROSSOVER – 3 ROW:  Toyota Highlander

MIDSIZE CAR:  Subaru Legacy

FULL-SIZE SUV/CROSSOVER:  Chevrolet Tahoe

FULL-SIZE CAR:  Dodge Charger

LUXURY SUBCOMPACT SUV/CROSSOVER:  Lexus UX

ENTRY-LEVEL LUXURY CAR:  Lexus RC

LUXURY COMPACT SUV/CROSSOVER:  Porsche Macan

LUXURY CAR:  Audi A7

LUXURY MIDSIZE SUV/CROSSOVER – 2 ROW:  Lexus RX

HIGH-END LUXURY CAR:  Porsche Panamera

LUXURY MIDSIZE SUV/CROSSOVER – 3 ROW:  Lexus GX

SPORTS CAR:  Ford Mustang Shelby GT350

LUXURY FULL-SIZE SUV/CROSSOVER:  Lexus LX

HYBRID CAR:  Honda Insight

OFF-ROAD SUV/CROSSOVER:  Jeep Wrangler Unlimited

ELECTRIC VEHICLE:  Tesla Model 3

MIDSIZE PICKUP TRUCK:  Toyota Tacoma

SUBCOMPACT SUV/CROSSOVER:  Honda HR-V

FULL-SIZE PICKUP TRUCK:  Toyota Tundra

COMPACT SUV/CROSSOVER:  Subaru Crosstrek

FULL-SIZE PICKUP TRUCK – HEAVY-DUTY:  Chevrolet Silverado HD

MIDSIZE SUV/CROSSOVER – 2 ROW:  Subaru Outback

MINIVAN:  Honda Odyssey
Chevrolet Colorado

Jeep Wrangler

Chevrolet Silverado

Porsche Macan

Ford F-Series

Toyota 4Runner

GMC Sierra

Toyota Tacoma

Honda Ridgeline

Toyota Tundra
(Residual values used for award calculations are based on the 2019 model-year vehicles that appear in the January/February 2019 Kelley Blue Book® Residual Value Guide. Top 10 models appear in alphabetical order.)
Depreciation often is the greatest expense incurred by drivers during the first five years of vehicle ownership. An average 2019 model-year vehicle will only retain about 39 percent of its original value after a five-year ownership period, meaning that a $35,000 new car today will only be worth somewhere close to $13,650 after five years. By comparison, all vehicles in Kelley Blue Book's Top 10 for Best Resale Value are projected to retain more than 50 percent of their MSRP with the top model, the Toyota Tacoma, expected to bring 62 percent of its MSRP after five years. Vehicles with average or below-average resale values are generally plentiful in the marketplace and easy to find. However, certain vehicles are projected to hold their value better than others. While much of a vehicle's resale value is based on supply and demand, as well as current and projected future market conditions, vehicles that retain their value best are typically discounted the least and tend to generate high levels of consumer interest.
Residual values reflect projected future auction values for vehicles in average condition with 75,000 miles at the end of a five-year lease or ownership period. Kelley Blue Book's residual values are used by manufacturers, banks, financial institutions and the automotive leasing industry. For more information about Kelley Blue Book's Best Resale Value Awards, visit https://www.kbb.com/new-cars/best-resale-value-awards/.