Armored Warfare, Free-To-Play Contemporary Tank Shooter, on PS4
The intoxicating sights and sounds of modern tank combat takes to PlayStation 4's digital battlefield today as My.com, developer and global publisher of Armored Warfare announces that its acclaimed tank-action shooter in now available free of charge (no PS+ subscription required) for all PlayStation 4 owners to download and enjoy.In Armored Warfare, players take control of the most innovative and cutting-edge technology in modern warfare. Players collect and own deadly ground machinery from a vast number available within the game, including iconic tanks such as the German built Leopard, the heavy Russian T-72 AV and the notorious and battle-proven American M1Abrams. Players team up with friends to engage in demanding co-op missions or take the fight directly to their opponents by navigating across large interactive maps. Through the revolutionary Global Operations mode, players may also take part in a challenging mix of competitive and cooperative gameplay.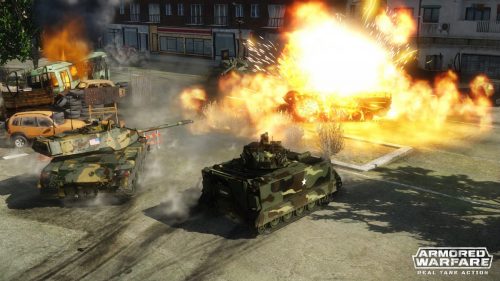 Although a subscription is not required to play, PlayStation Plus owners can download a special free bundle from the PlayStation Store to help get them started. The bundle includes a unique LAV-150 90 vehicles with a PlayStation skin, one day of Premium Time, 500K game credit and 500 gold. Additionally, they are granted a three-day rental of a range of exclusive vehicles and benefit from a 20% discount on all Starter Packs!
The modern battlefields of Armored Warfare are open "4 the Players" ® , as  they can now join the ranks of mercenaries all across the world, fight alongside their friends and defeat their enemies in this free-to-play modern tank shooter!
Upgrades optional!
Even though Armored Warfare is completely free-to-play, those who want can boost their game experience with one of four Starter Packs ranging from items and special vehicles useful for every beginning mercenary through heavy-duty equipment, and monstrous tanks to defeat even the toughest opponents.
Key features of Armored Warfare on PlayStation®4:
Global Operations – a unique blend of PvP and PvE modes using a large-scale battlefield. Capture special zones, call airstrikes, get additional supplies, resist the enemy AI support and ensure the AI cover the back, respawn during the battle – all this comes on large scale maps for Real Tank Action!
Cutting-Edge Technology – get immersed into the modern battlefield with overhead surveillance drones, airstrikes, guided missiles fire and smoke grenades all playing tactical roles. The state of the art vehicles players can command are divided in five classes:

Unyielding Main Battle Tanks, such as the M1 Abrams
Nimble Light Tanks, such as the Polish PL-01
Lightning-fast Armored Fighting Vehicles, such as the British Fox
Stealthy and deadly long-range Tank Destroyers, such as the Italian Centauro 120
Self-Propelled Guns functioning as heavy fire support, such as the German Panzerhaubitze 2000

Co-Op Missions – Team up with friends to carry out the most difficult missions sent down by command. The enemy's superior forces, controlled by artificial intelligence, will present a serious obstacle to become victorious and fulfill all special objectives in the mission.
PvP Experience – Engage in challenging, fast-paced player versus player combat. Collaborate with allies and execute clever tactics and maneuvers to emerge triumphant from the theater of war once the smoke has cleared. Armored Warfare is easy to learn, but challenging to master.