Ben & Jerry's Launches its Newest (and Chill-est) Treat
Starting on April 20th, Ben & Jerry's is taking ice cream snacking to a whole new level! The company welcomes the CHILL-aco. For those who are seeking a unique way to take their ice cream eating to the next level, the CHILL-aco is the new hot menu item, even if it's frozen! The CHILL-aco features a crunchy waffle cone taco surrounded by a soft waffle cone wrap with a layer of warm caramel between, filled with two scoops of ice cream and topped with a fudge drizzle and cookie crumbs to round out the deliciousness. It really doesn't get more decadent than that!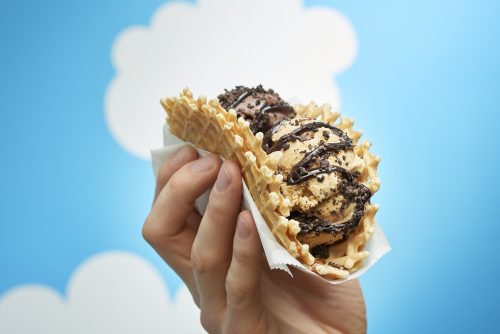 "The crunch of the taco, the layer of caramel and the smoothness of the ice cream makes it the ultimate snacking experience," said Senior Brand Manager for Global Scoop Shops, Alison Gilbert. "Fans absolutely loved the BRRR-ito, so this year, we turned it up to eleven! It's all about the ice cream AND the eating experience." If it sounds indulgent, it's because it is!
So don't let your chance slip past. Get to your local scoop shop ASAP as this sweet treat will be available for a limited time only starting on 4/20.
The CHILL-aco will be available in participating Scoop Shops in the US, Canada, Brazil, Australia, New Zealand and Singapore. For more info about the CHILL-aco, visit benjerry.com/chillaco.