Cinemark Movie Club, an $8.99 Monthly Movie Membership Program
Cinemark.announced the launch of Movie Club, a unique monthly movie membership program. The first program of its kind, Movie Club offers ticket and concession discounts along with many other exclusive benefits. Moviegoers can instantly join and begin taking advantage of their benefits through the Cinemark app or by visiting www.cinemark.com/movieclub.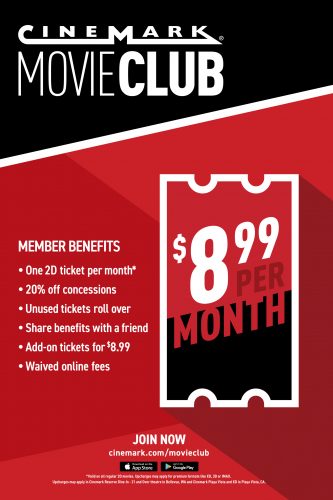 For $8.99 per month, a Movie Club membership provides the following:
One 2-D movie ticket each month with premium format ticket upgrades available
Unused tickets roll over and never expire for active members
Ability to reserve seats and buy tickets in advance with NO online fees
Additional tickets at the member price of $8.99 each
PLUS, a 20 percent discount on concessions during every visit
In developing Movie Club, Cinemark conducted extensive consumer research and studied the best subscription program models, both in and outside of the entertainment industry. Throughout the research process, consumers resoundingly preferred a monthly membership program with ticket rollover benefits that allows them to accumulate credits, reserve their seats in advance with no online fees and enjoy significant discounts on concessions.
Movie Club is accepted at all Cinemark locations across the nation, including Century Theatres, CinéArts, Tinseltown and Rave Cinemas. To join, visit www.cinemark.com/movieclub or download the Cinemark app in the Apple App Store or the Google Play Store. Movie Club members can easily reserve and purchase their tickets in advance without any fees through the Cinemark app or online. Purchased tickets will populate through the app for quick and easy scanning at the movie theatre.