Disneyland Resort – First-Ever Pixar Fest for a Limited-Time
Pixar Fest, the biggest Pixar celebration ever to come to Disney Parks, brings guests together to celebrate friendship and beyond for a limited time, through Sept. 3, 2018.
This first-ever Pixar Fest presents some of the beloved characters and stories from Pixar Animation Studios in new and exciting ways at Disneyland Park, Disney California Adventure Park and throughout the resort. Films such as Pixar's "Toy Story," "Coco," "Monsters, Inc." and "Up" come to life for guests in a new nighttime spectacular, the return of two favorite parades with fresh Pixar surprises, new décor, musical entertainment, creatively themed food and beverage and event merchandise.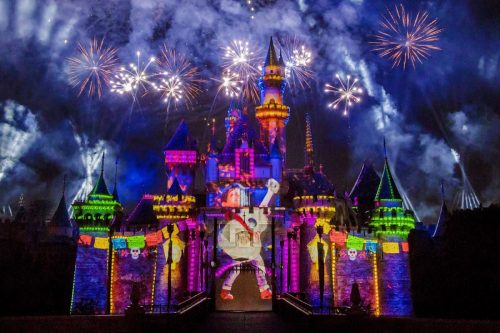 The new multimedia fireworks show, "Together Forever – A Pixar Nighttime Spectacular," celebrates the heart of Pixar as it lights up the sky over Disneyland Park, connecting guests with characters they've come to know and love. Along with dazzling pyrotechnics, projections on iconic park locations and memorable music, the heartwarming show celebrates the theme of friendship, an ever-present concept in Pixar animation. Guests discover favorite moments from all 19 Pixar films, including Buzz Lightyear and Carl Fredricksen's House from the film "Up" flying over Sleeping Beauty Castle.
For the first time, "Pixar Play Parade" makes its way through Disneyland Park, being led by someone new. The parade begins just as all Pixar films have, with an appearance by the iconic and adorable Pixar Lamp and yellow Ball from the original Pixar short, "Luxo Jr." Also new to the parade are characters from the beloved film, "Up." Wilderness Explorer Russell appears astride the colorful flightless bird, Kevin, as Carl Fredricksen and Dug follow behind with Carl's tethered house floating above. "Inside Out" also joins "Pixar Play Parade," with Joy and Sadness perched atop colorful memory orbs and Bing Bong himself cheering them on.
"Paint the Night" parade also returns, and this time guests enjoy the parade's more than 1 million, brilliant LED lights and catchy tunes at Disney California Adventure. "Paint the Night" features pals from "Toy Story," "Monsters, Inc." and "Cars." Another Pixar story joins "Paint the Night" in June, with a new, high-energy float inspired by "The Incredibles" and "Incredibles 2." Mr. Incredible, Mrs. Incredible and Frozone will showcase their superhero awesomeness as they take on their newest threat, the Underminer. Violet, Dash and Jack-Jack also showcase their unique powers in surprising new ways, as shown through dynamic and innovative visual technology. Like other elements in this spectacular parade, this new float comes to life through dazzling LED lights, new music elements and high-tech, pop-art effects inspired by the mid-century-modern style of the films.
A collection of Pixar Shorts is featured at the Sunset Showcase Theater at Disney California Adventure during most of Pixar Fest, including favorites such as "For the Birds" and "LAVA." The short films rotate during the celebration.
In the Paradise Gardens area of Disney California Adventure, guests will enjoy the comedic, musical troupe TripleDent Gum presents The Pixarmonic Orchestra. The zany, seven-piece band performs a fun-filled repertoire of songs from Pixar films with unconventional instruments such as cowbells, kazoos, duck calls, sirens and slide whistles. Guests also will encounter Pixar characters in this Pixar Pals area of the park.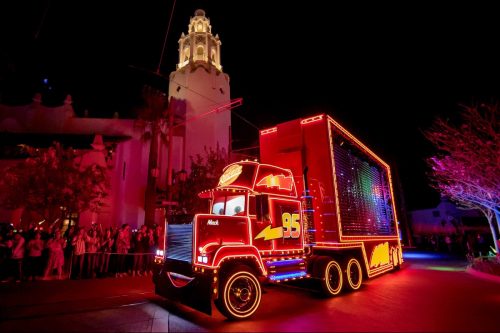 Special renditions of the hit song "You've Got a Friend in Me," from the Pixar film "Toy Story," are performed by musical groups including the Disneyland Band, Straw Hatters, Dapper Dans, Main Street Piano Player, Royal Street Bachelors, Jambalaya Jazz Band and Mariachi Divas. The Straw Hatters also perform a rendition of "Married Life" from "Up," along with the Royal Street Bachelors who add "If I Didn't Have You" from "Monsters, Inc."
Beginning June 8, the Pixar Pals Dance Party at the Tomorrowland Terrace in Disneyland will get guests of all ages mixing, mingling and dancing with some of their favorite Pixar pals. The dance party is an ideal time to get up close with Pixar characters such as Russell, Dug, Woody, Jessie, the Green Army Men and more.
Also during Pixar Fest, guests in Tomorrowland will find that the popular Redd Rockett's Pizza Port has transformed into Alien Pizza Planet, inspired by the loveable, green Space Aliens from the family restaurant frequented by Andy (and his toys) in "Toy Story." The Aliens have invaded this popular dining spot to deliver fresh, hot pizzas and other items that are out of this world, including the new specialty pepperoni pizza and cheeseburger pizza.
For those who wish to get into character and celebrate friendship, limited-time Pixar Fest merchandise is available for guests, including friendship charm bracelets, companion apparel designed to be worn in pairs, "Finding Nemo" and "Finding Dory" souvenir light-up sippers and so much more.
All these exciting additions complement the many existing attractions and entertainment in the parks that feature Pixar characters, such as Buzz Lightyear Astro Blasters and Finding Nemo Submarine Voyage at Disneyland, and Cars Land and Turtle Talk with Crush at Disney California Adventure.