Domino's to Offer Rewards Points for Any Pizza – Even Competitors'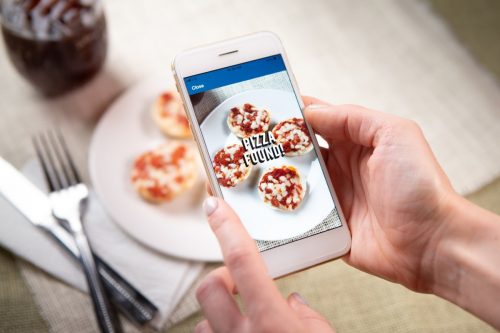 Domino's Pizza  knows for a fact that people love pizza. They love pizza from Domino's and pizza they make at home, pizza from competitors and pizza on bagels. Even frozen pizza. And now, Domino's is here to celebrate all that pizza love.
Beginning on Saturday, Feb. 2, just ahead of one of the biggest pizza days of the year, Domino's will begin awarding rewards points for ALL pizza that customers may eat through its new Points for Pies program. The process is simple: Customers download the latest Domino's app, sign up for the Piece of the Pie Rewards® loyalty program (if not already a member), use the newly-embedded pizza identification feature to scan their pizza and voila! Customers can then earn 10 points. After a customer earns 60 points, they can redeem them for a free medium two-topping Domino's pizza! All the details can be found at pointsforpies.com.
Domino's typically sells nearly 2 million pizzas and 4 million chicken wings on the biggest football day of the year – about 40 percent more pizzas than on a normal Sunday. Stores have prepared for weeks so that they're ready to serve customers during the busiest hours – right before kickoff through the halftime show – some of the most intense pizza-ordering hours of the year. Considering Domino's alone sold enough pizza to cover more than 5,000 football fields last year, we know there are a lot of pizza lovers out there who will be eligible to claim rewards points!
New Technology
Technology is an important element of Domino's Points for Pies program. Domino's internal teams developed a pizza identifier that will scan each pizza or slice and will then use artificial intelligence-driven software to identify the image as pizza, so that points can be awarded. This technology will recognize all pizza – not just Domino's – for rewards. Sorry – it won't give points for hamburgers, turkey sandwiches or any nonpizza item.
"This is the first time Domino's is using AI technology like this," said Dennis Maloney, Domino's chief digital officer. "It will be running the pizza identification process and is already smart enough to identify all pizza, even if it is a homemade English muffin pizza, a pizza with a hotdog stuffed crust, or a high-end artisan pizza. It can even identify if it's a dog's squeaky pizza toy."
Points for Pies Program Details
Domino's will award Piece of the Pie Rewards members with Points for Pies points when they use the latest version of Domino's mobile app to scan a "pizza or an eligible image of a pizza" from Feb. 2 – April 28, 2019.  Customers can use the menu on the left-hand side of the of the app to navigate to the Points for Pies section.
Domino's has committed to giving pizza lovers at least 100 million points toward free pies during the program's 12-week duration. Members can earn 10 points through scanning one pizza per week and can earn up to a maximum of 60 points through Points for Pies. Traditional rewards points, earned through pizza purchases at Domino's, can be combined with Points for Pies credits to earn a free Domino's pizza.
Every day more Points for Pies credits will become available. Point availability may run out throughout the day. This doesn't mean they're gone forever, though. Customers can check back as more points become available. The mobile app will indicate when Points for Pies are unavailable and encourage participants to return later to claim points. Points earned through Points for Pies will expire after six months. Further details can be found at pointsforpies.com.