Fire Emblem Warriors for Nintendo Switch and New Nintendo 3DS
The Fire Emblem Warriors game for the Nintendo Switch and New Nintendo 3DS family of systems, has a wealth of content and action-packed gameplay. The new game offers a twist on the acclaimed Fire Emblem series by uniting fan-favorite characters from Fire Emblem history to participate in over-the-top battles focused on real-time, tactical action rather than turn-based strategy.
Fire Emblem Warriors offers action-filled combat through an epic campaign starring more than 20 playable warriors, including two new characters, Lianna and Rowan, battling alongside beloved heroes like Marth, Lyn, Xander, Corrin and Chrom. Fans who want to get even more out of the game can download the free DLC Japanese voice pack and free software update, as well as purchase upcoming DLC.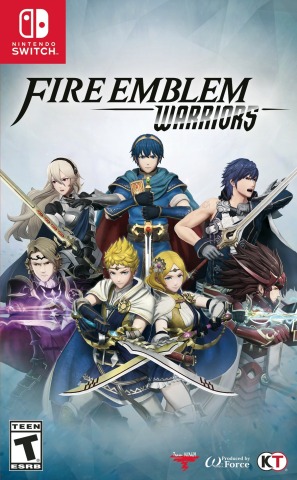 Starting in December, a series of three paid DLC packs will also release for the game. The first DLC pack launches in December, the second in February and the third in March, with each pack adding three new playable characters, three new History scenarios, new costumes, new weapons and new support conversations inspired by Fire Emblem Fates, Fire Emblem: Shadow Dragon and Fire Emblem Awakening, respectively. Each DLC pack will cost $8.99, but a Season Pass can be purchased starting on Oct. 20 for $19.99. The Season Pass includes all three DLC packs, which become available as they release, as well as a bonus bridal costume for Lucina that can only be obtained by purchasing the Season Pass.
Fire Emblem Warriors launches for Nintendo Switch on Oct. 20, 2017 at a suggested retail price of $59.99. A special edition will launch exclusively for the Nintendo Switch system on the same day at a suggested retail price of $79.99. The special edition includes the game, a premium character-card set with a slip case, a double-sided poster and a three-CD music set. The game also will launch on Oct. 20, 2017 for New Nintendo 3DS, New Nintendo 3DS XL and New Nintendo 2DS XL systems at a suggested retail price of $39.99. (This version of the game is only playable in 2D.)
Launching on Oct. 20, 2017 are two new amiibo figures based on popular characters Tiki and Chrom from the Fire Emblem series. (Each figure is sold separately at a suggested retail price of $12.99.) These, along with other compatible Fire Emblem themed amiibo figures, including Marth, Ike, Robin and Lucina, grant players weapons or in-game materials when tapped. All other available amiibo figures are compatible as well. Up to five different compatible amiibo figures can each be tapped once per day.