Nintendo Partners with Western Digital to Create Licensed Nintendo Switch SanDisk Memory Cards
Nintendo and Western Digital Corporation have formed a global partnership to create Nintendo-licensed memory cards for use in Nintendo Switch video game systems. The microSDXC cards will be available in capacities of 64 GB and 128 GB, and will feature the Nintendo Switch and SanDisk logos.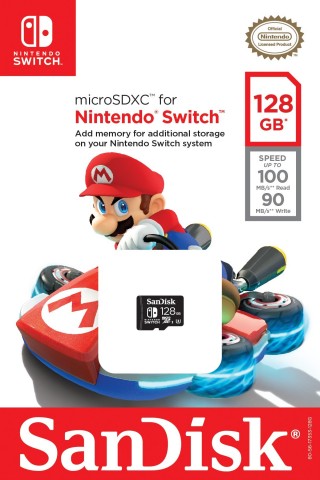 "Western Digital is a global leader in memory storage, and its SanDisk brand microSD cards are trusted by consumers around the world," said Tom Prata, Nintendo of America's Senior Vice President of Strategic Initiatives. "These new Nintendo-licensed memory cards provide significant additional storage for digital content, and in many retail locations they will be conveniently displayed alongside Nintendo Switch games and accessories."
"As more and more amazing games and related content become available for download on Nintendo Switch, our licensed memory cards allow users to quickly and easily expand their storage," said Sven Rathjen, Vice President of Product Marketing, Client Solutions, Western Digital. "Nintendo Switch has generated tremendous momentum, and we are thrilled to partner with Nintendo to offer consumers a trusted card for their system."
Nintendo Switch gives players the option to supplement their system's built-in storage, depending on how much digital content they choose to download. Ever since Nintendo Switch launched in March, the system has become home to a continually growing library of diverse downloadable games and content. Additional storage enables players to download more digital games and content, and take it all on the go. Also, a microSD card will be needed for certain Nintendo Switch games that contain an especially large amount of content and require additional storage for players to enjoy the full experience.
The Nintendo-licensed 64 GB and 128 GB microSDXC SanDisk memory cards will be available at select retail outlets starting in October 2017.