DROPMIX, music-mixing game
Hasbro's highly anticipated DROPMIX music-mixing game developed in collaboration with video game developer Harmonix Music. DROPMIX uses cutting-edge technology to empower players to create unique mixes with their favorite hit songs by playing cards on a game board connected to a mobile app.
DROPMIX is a first-of-its-kind competitive gaming experience that blends physical and digital play to give players a fresh way to combine their favorite artist and songs and discover new ones. When a DROPMIX Card is placed on a Mix Slot, the electronic DROPMIX Board immediately starts playing the corresponding part of the song (bass, beat, loop or vocals) noted on the card. The board reads up to five DROPMIX Cards at time, using NFC chip-enabled cards, and the proprietary software in the app seamlessly combines the music within each card to create a unique mix.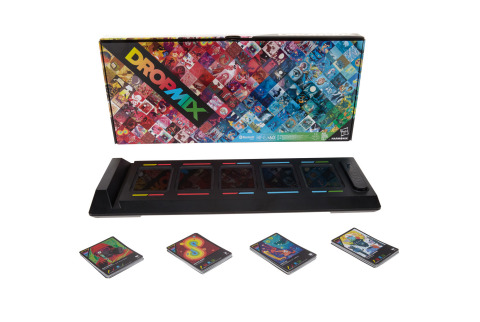 DROPMIX features three gameplay modes, including the just announced Freestyle Mode, to offer players both competitive and solo play experiences:
Freestyle Mode: A solo play mode where players can build the ultimate mix picking any artists, genres or song parts. No rules – play any card in any slot! Players can save their mixes in the DROPMIX app and share them with friends at any time!
Party Mode: A team-based game where players race against the clock to achieve the highest score by matching requests made via the DROPMIX app. Every request answered rewards points based on how quickly players place their cards down. Answer all the requests accurately to unlock a bonus round and push your score even higher.
Clash Mode: A head-to-head competitive mode where players need to think strategically to dominate the mix. By carefully choosing and building decks, players can use different abilities to score points or block opponents as they race to be the first to reach 21 points.
DROPMIX cards feature some of the biggest hits in Pop, R&B, Dance, Indie, Country, Rock and Hip-Hop from around the world that players can combine in unexpected ways. Today, Hasbro is also unveiling fifteen new additional songs including:
BLINK-182 – "ALL THE SMALL THINGS"
BRUNO MARS – "24K MAGIC"
CARLY RAE JEPSEN – "CALL ME MAYBE"
DOLLY PARTON – "JOLENE"
MARKY MARK & THE FUNKY BUNCH – "GOOD VIBRATIONS (FT. LOLEATTA HOLLOWAY)"
OUTKAST – "MS. JACKSON"
PANIC! AT THE DISCO – "EMPEROR'S NEW CLOTHES"
VAMPIRE WEEKEND – "A-PUNK"
WALK THE MOON – "SHUT UP AND DANCE"

Among others!
Previously announced hit tracks include:
FIFTH HARMONY – "WORK FROM HOME"
IMAGINE DRAGONS – "RADIOACTIVE"
MGMT – "KIDS"
SIA – "CHANDELIER"
SKRILLEX – "BANGARANG (FT. SIRAH)"
THE WEEKND – "CAN'T FEEL MY FACE"

And many more!
The DROPMIX Music Gaming System, which includes an electronic DROPMIX Board and 60 DROPMIX Cards across multiple music genres, will be available at major retailers and online on September 24 for the suggested retail price of $99.99. In addition to the 60 DROPMIX Cards in the Music Gaming System, Hasbro will release Playlist Packs with 16 DROPMIX Cards for the suggested retail price of $14.99 and Discover Packs with five DROPMIX Cards for the suggested retail price of $4.99. Additional cards will be rolling out on an ongoing basis to allow players to collect and curate custom decks and create new and unexpected soundtracks each time they play. Players must also download the DROPMIX app which will be free on the App Store for iPhone and iPad and on Google Play for Android devices.