Home Preparedness Ahead of the Season's Worst Weather – Experts at ServiceMaster
Ahead of winter's arrival, ServiceMaster Restore experts are urging homeowners across the country to prepare their homes for cold temperatures and severe weather. Wind, snow, ice and freezing temperatures can all wreak havoc on a home, especially if it's not well-prepared for the elements.
Forecasters at the National Oceanic and Atmospheric Administration's (NOAA) Climate Prediction Center recently released its annual U.S. Winter Outlook, predicting wetter-than-average conditions across the northern U.S. and drier-than-normal conditions in the South. "Even so, we all know how unpredictable weather can be. That's why it's so important for homeowners to prepare now, so they're ready for anything Mother Nature throws their way," said Peter Duncanson, a 30-year ServiceMaster Restore veteran, who has spent much of his career helping home and business owners recover from severe damage caused by winter weather.
A recent ServiceMaster Restore survey revealed two-in-five homeowners have no idea what they are doing when it comes to prepping their house for a potential weather emergency.1 "It's shocking how many people don't realize how easy and affordable it is to adequately prepare their homes for winter," said Duncanson. "A few preparations now can save thousands of dollars in potential damages, and allow homeowners to enjoy their home, instead of dealing with winter's aftermath."
One of the best resources, Duncanson says, is the American Red Cross Emergency app, which is sponsored by ServiceMaster. The free app provides expert advice on what to do before, during and after severe weather events, includes maps of nearby shelters, and notification capabilities to let friends and family know that you're safe. To download, text "GETEMERGENCY" to 90999, search "American Red Cross" in the app store or go to redcross.org/apps.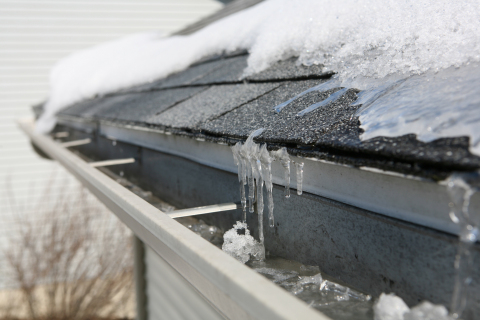 To get ready for the winter season ahead, Duncanson recommends taking these seven simple steps to safeguard your home's interior and exterior:
Outside the Home:
Outdoor water faucets connected to garden hoses are likely to freeze and lead to burst pipes. Disconnect all hoses, and cover the faucets to help safeguard your outdoor pipes. Insulated covers can be purchased for $5-$10 at a local hardware or home improvement store.
Rain gutters clogged with leaves can cause big problems once snow or freezing rain begins to fall, as they often lead to dreaded ice dams. As they thaw, they can cause costly water damage in your home. Be sure to clear them before colder temperatures start to settle in.
Many homeowners invest in sheds to store expensive yard equipment – but unless the sheds are properly sealed, the equipment and other contents can be damaged by the elements. Check for cracks or gaps that could let in cold air and fill with caulk. Be sure that loose or damaged roof shingles are replaced or repaired.
Inside the Home:
Use a programmable thermostat to regulate the temperature in your home. If you aren't going to be home for a few days, ensure the temperature is set no lower than 55 degrees. For extra precaution during extremely cold weather, open kitchen and bathroom cabinet doors so warmer air can circulate around pipes or allow kitchen and bath faucets to run slowly to avoid freezing.
Change furnace filters and schedule a furnace checkup with a heating system professional to avoid waking up with no heat on the coldest morning of the season. Routine maintenance will help keep your unit in top shape now and in seasons to come.
Prevent frozen pipes in unheated areas of your home, like basements and attics, by wrapping them with foam or self-adhesive insulating tape. Pipes closer to exterior walls that are exposed should be covered and a 6-inch section of pipe insulation foam can cost as little as $3 – thousands of dollars less than dealing with a burst pipe.
Have a temporary backup plan, just in case your heating system does go out. For instance, take time to clean the chimney now, if you plan to use vented gas logs or a fire place. If you plan to use space heaters, inspect them to be sure the wires aren't frayed and the units are working properly, and remind family members to be extremely cautious when using them.
For more expert tips and information on how to prepare for and recover from extreme winter weather, visit ServiceMasterRestore.com