Honeywell Lyric™ C1 Wi-Fi Security Camera
Have you ever wondered whether your dog is chewing up your favorite pillow, or if your kids are fighting while you're away from home? Thanks to Honeywell, a leader in home comfort and security, consumers can check on all that and more with the Lyric™ C1 Wi-Fi Security Camera. Do-it-yourself (DIY) ready, the C1 is the latest in Honeywell's growing line of offerings that can help make homes smarter and more connected.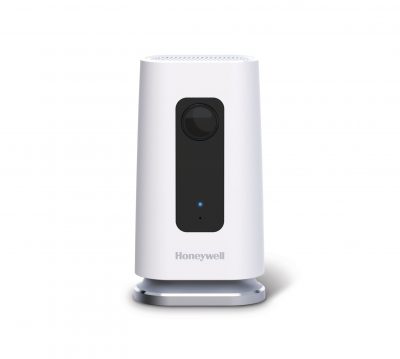 Using the Lyric app on your mobile device, the compact C1 can be set up in just a few quick steps. Standing on a flat surface with the adjustable magnetic base, or mounted to a wall, the C1 adapts to any room. It captures HD video at 30fps in normal lighting, with night vision for darker environments. With its wide viewing angle (135 degrees), the C1 can provide a good view without needing to pan or tilt.
If the C1 detects motion or hears audio, it will send an alert directly to your mobile device through the Lyric app, and will also send an email to the registered account. The C1's intelligent sound detection with the built-in microphone can recognize if a smoke or CO alarm is activated and will send an alert. A built-in speaker makes two-way talk possible, perfect for telling your pet to get off the furniture or for speaking to someone in the room.
Wired power means there are no batteries to change, and encrypted local storage – an 8GB SD card is included – ensures moments can be recorded, even if the home Wi-Fi is out. Free, secure cloud storage (rolling every 24 hours) is also available for streaming and downloading clips with the Lyric app.
The C1 is a smart camera – when movements or sounds are detected, it knows to keep the seconds leading up to the event. You can also customize two digital detection zones so the C1 knows to ignore something like a ceiling fan or other movement you don't want to pick up. Additionally, the C1 can be turned on or off automatically through geofencing via the location of your mobile device. Powerful, 256-bit end-to-end encryption helps capture and send footage securely.
The Lyric C1 Wi-Fi Security Camera is available at MSRP $119.