IHOP Free Pancake Day – Flip it Forward for Kids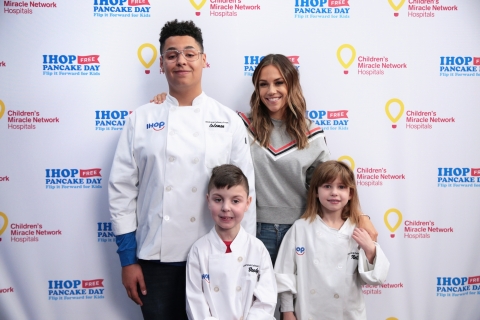 IHOP® Restaurants announced the 2019 date and a new name for its annual pancake giveaway. This year's IHOP Free Pancake Day – Flip it Forward for Kids event will take place at IHOP restaurants nationwide on Tuesday, March 12 from 7:00 a.m. to 7:00 p.m. with select locations participating until 10:00 p.m.* For one day only, guests can get a free short stack of Original Buttermilk pancakes and, in return, help kids fighting to overcome illnesses by donating to its charity partners, Children's Miracle Network Hospitals (CMN Hospitals), The Leukemia & Lymphoma Society, and Shriners Hospitals for Children.
To kick off the 14th annual IHOP Free Pancake Day campaign, the brand invited kids, ages 6-16, treated at a Children's Miracle Network Hospital to submit their best pancake idea. Three finalists were selected for their creativity and incredible stories of bravery and perseverance. The 2019 IHOP Kid Chef team includes:
Coleman Giles, Manhattan Beach, Calif. Born with cardiomyopathy, Coleman underwent a heart transplant at Children's Hospital Los Angeles at the age of seven. While waiting for his new heart, he went into cardiac arrest and relied on the Berlin Heart, an artificial heart pump to survive. Today, Coleman is 15 years old and thriving. Coleman's pancake idea – The Hawaiian Luau – has banana slices baked into buttermilk pancakes before being topped with a grilled pineapple ring, whipped topping, a cherry, sprinkled with shredded coconut and, the most special part, his Grandpa Bob's vanilla syrup.
Nellie Mainor, Salt Lake City, Utah. In 2016, Nellie was diagnosed with Dense Deposit Disease, a rare kidney disease that stops the kidneys from correctly filtering waste from the blood. She is currently in chronic kidney failure and has a blood disorder that is related to her kidney disease. Nellie was treated at Primary Children's Hospital in Salt Lake City three days a week for dialysis and bi-weekly infusions. Now, at eight years old, she receives bi-weekly blood draws and check-ups while doing dialysis in her home for 10-hour treatments every night. She also has a feeding tube that supplies all her nutrition needs due to her chronic kidney failure. Nellie's pancake creation – PaNellie Unicorn Pancakes – is a stack of multi-colored buttermilk pancakes topped with whipped cream and lots of sprinkles and a unicorn face made with strawberries for the ears, blueberries for the eyes, and an ice cream cone for the horn.
Brody Simoncini, Worcester, Mass. Six-year-old Brody was born with an abdominal wall defect that caused most of his organs to be on the outside of his body. Treated at Boston Children's Hospital, he underwent multiple lifesaving surgeries over the course of five years, including open heart surgery and an induced coma to move his organs back inside the stomach. Today, he's a healthy, active first-grader. Brody created OREO® Oh My Goodness, a stack of two buttermilk pancakes with OREO cookie pieces baked in and topped with vanilla icing and more cookie pieces.
The 2019 IHOP Kid Chef Team visited the IHOP Test Kitchen on Friday, January 11 to showcase their recipes before a Pancake Panel that included actress and country music superstar Jana Kramer; IHOP President Darren Rebelez; and the 2018 IHOP Kid Chef Champion, Starla Chapman. On February 25, one finalist will be named the 2019 IHOP Kid Chef Champion.
As the most anticipated food holiday of the year, IHOP Free Pancake Day has become a pop-culture phenomenon. Every dollar raised during the IHOP Free Pancake Day campaign stays local. Guests can participate in the campaign and help IHOP reach its $4 million fundraising goal by:
Visiting any IHOP restaurant on Tuesday, March 12, 2019 during event hours* to enjoy a free stack of IHOP's world-famous Original Buttermilk pancakes and donating to the featured charity.
Purchasing a wall icon now through March 12, 2019 to show support. Guests who buy a $5 wall icon will receive a $5 coupon good for a future purchase of $10 or more (valid at participating restaurants only.)**
Making an in-restaurant cash contribution or on-check donation at any IHOP restaurant between now and March 31, 2019.
For more information on IHOP Free Pancake Day and the IHOP Kid Culinary Team, including participating restaurant hours and charity support, visit www.ihoppancakeday.com.
* Limit one offer per guest. One free short stack of Buttermilk Pancakes on March 12, 2019 from 7 a.m. – 7 p.m.; participating restaurants and hours may vary. Check with your local IHOP restaurant for details. Dine-in only.
** Issuance and redemption of coupons at participating restaurants only. Redemption expires Sunday, March 31, 2019 unless otherwise stated.