Jack in the Box's Crave Crasher, a mobile-optimized, browser-based game
Jack in the Box's Crave Crasher™, a new mobile-optimized, browser-based game that challenges players to "crash their cravings" using the brand's infamous Crave Van. Beginning today, users 13 years of age and over can head to www.cravecrasher.com on any web-enabled device to access the game and start playing.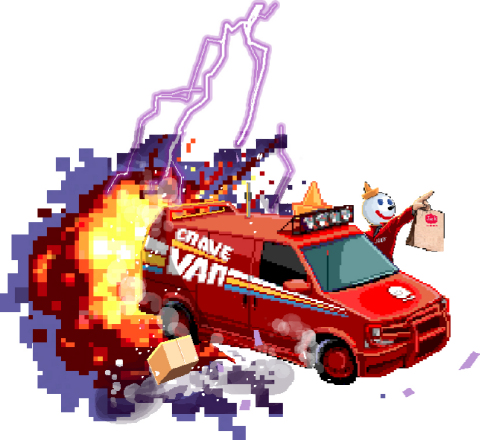 Crasher: The Game Experience
Crave Crasher puts users behind the wheel of the Jack in the Box Crave Van and tasks them with bringing one of Jack's three new innovative Munchie Mash+Ups™ to a person who's craving it. The twist? Users must avoid obstacles as they race toward the finish line, where a craving is waiting to be satisfied.
A time-trial racing game comprised of three levels, Crave Crasher encourages players to navigate through the streets as fast as possible to complete their craving delivery. The game controls the speed while the player controls the steering. Times can be improved by taking tighter turns to avoid obstacles, and players are encouraged to share with friends to top their high scores. Those who beat the game have the opportunity to sign up for Jack in the Box deals and coupons.
New Munchie Mash+Ups
Featured throughout Crave Crasher is Jack in the Box's newest menu innovation, Munchie Mash+Ups. These snackable size munchies, available for a limited time only at participating Jack in the Box restaurants, stem from Jack's popular late-night Munchie Meals® menu, and includes Jack's take on hash browns. For just $3, fans can choose from:
Wakey Bakey Hash – three-cheese blend, bacon, fried egg and melted garlic herb butter
H'angry Chicken Hash – chicken nuggets smothered with tasty white cheese, buttermilk ranch and buffalo sauce
Jack'd Jalapeño Hash – jalapeños, bacon and melty cheese
Start crashing cravings with Crave Crasher on any web-enabled device at www.cravecrasher.com .