Jack in the Box's Ribeye Burger
Jack in the Box, reveals an industry breakthrough with the introduction of fast food's first 100% Ribeye Burger.
Food lovers now have access to mouth-watering, flavor-packed, juice-dripping pure Ribeye beef and it's all thanks to Jack. Inspired by the quality of a high-end steakhouse, the Ribeye is available in two distinct and decadent builds.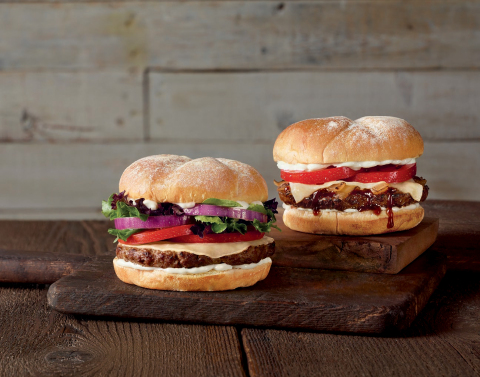 All American Ribeye:
Begins with a beef patty made from 100% Ribeye meat, red onion and freshly sliced tomato. Next, it's layered with Provolone cheese, real mayo and hand-leafed spring mix lettuce on top of an artisan potato bun.
The Havarti & Grilled Onion Ribeye:
Features sliced tomato, grilled onions, real mayo, Havarti cheese and a savory red wine glaze sauce which perfectly complements the flavor cues of the premium meat.
With the debut of the Ribeye Burger, Jack in the Box continues its trend of premium, craveable burgers most recently and notably demonstrated by our Smoky Jack and Buttery JackTM burgers. The Ribeye also marks the beginning of an onslaught of innovative new menu items that fans can expect from Jack this year and onward.
Jack's Ribeye Burgers are available at all participating restaurants for a limited time only. For more information, please visit jackinthebox.com