Jimu Robot BuilderBots Kit
UBTECH Robotics, a leader in STEM (Science, Technology, Engineering, Math) learning through robotics, today introduced its latest offering, the Jimu Robot BuilderBots Kit, an interactive robotic building block system for kids that lets you build two robots: GrabberBot and DigBot, or invent your own robot creation. The Jimu Robot BuilderBots Kit empowers kids with the tools necessary to learn STEM skills that will propel them into their academic and life goals.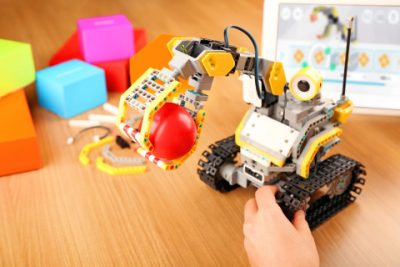 "STEM skills are becoming more and more prevalent in today's society, and while it's important to instill these skills at a young age, it's also important to present them in a way that makes them enjoyable to learn," said John Rhee, General Manager, North America, UBTECH. "UBTECH is dedicated to making learning fun and inspiring young minds through robotics. Our new BuilderBots Kit is the perfect entry point to learn the basics of building and coding your own personal robot."
The Jimu Robot BuilderBots Kit is an easy to build & code robotics kit with a 3D App that allows kids to play and learn at their own pace. Both robots run on treads while an infrared sensor allows them to detect objects to pick up or move around. Additionally, LED lights allow the robots to move in the dark and express emotions.
The Jimu Robot BuilderBots Kit comes with everything you need to build and code your robot including:
| | | |
| --- | --- | --- |
| • 4 Smooth Motion Robotic Servo Motors | | • 1 Recharging Power Adapter |
| • 1 Infrared Sensor | | • 1 Main Control Box |
| • 1 8-Color LED Light | | • 1 Long-Life, Quick Recharging Lithium-Ion Battery |
| • 357 Snap-Together Parts & Connectors | | • Quick Start Guide |
| | | |
Additionally, the BuilderBots Kit features the free Jimu Robot app for both IoS and Android that includes:
Easy-to-follow 3D-illustrated building instructions
Pre-programmed actions with Blockly coding to help you get moving with robot actions
An in-app "joystick" remote to control your robot on your smartphone or tablet
In-App "Action Bars" control individual treads to direct your robot
Fun ways to share your robot with friends in the Jimu community
UBTECH is teaching kids how to design, build & code. But more importantly, Jimu Robot has kids understanding how to rapid prototype, how to experiment and how to play. Plus, kids today need to train for jobs that don't exist yet.
UBTECH has created an engaging Educational Video Series featuring BuilderBots. The videos provide chapterized content, starting from an introduction to the Jimu Robot system, through the features and functionality of the system, scaffolding up to more complex build and coding actions. All specifically designed for incremental steps of success in experimentation and progressive learning. No matter what your level of STEM proficiency, the videos are an indispensable guide to learning real robotics.
The Jimu Robot BuilderBots Kit retails for $99 and is available for purchase at leading retailers.