Legendary Actor Steve McQueen's Life Story of Fame and Redemption Comes to Movie Theaters Nationwide for One Night September 28
Actor and "King of Cool" Steve McQueen went from the world of fame and fortune to seek truth and understanding during the late stages of his life. Now, the iconic actor's inspirational story comes to U.S. cinemas for a special one-night event in the feature-length theatrical documentary, "Steve McQueen: American Icon," on Thursday, September 28 at 7:00 p.m. local time, from Fathom Events and American Icon Films, LLC.
In addition to the feature content, which includes exclusive interviews and photos, audiences will also see a special message from Pastor Greg Laurie of Harvest Ministries, as well as a performance by MercyMe.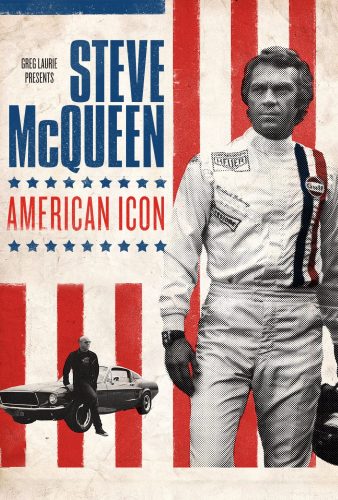 Tickets for "Steve McQueen: American Icon" can be purchased online by visiting www.FathomEvents.com or at participating theater box offices. Fans throughout the U.S. will be able to enjoy the event in nearly 800 select movie theaters. For a complete list of theater locations visit the Fathom Events website (theaters and participants are subject to change).
"Steve McQueen: American Icon" tells the story of one of America's most enduring and intriguing movie stars. This redemption story chronicles McQueen's exodus from wealth and excess to his little-known search for faith and meaning toward the end of his life. The story is hosted by American pastor Greg Laurie, who is not only an avid fan of "The King of Cool," but also experienced a similarly troubled childhood as McQueen. In his mint replica "Bullitt" Mustang, Greg travels the country in search of the untold story of McQueen's final chapter and the redemption McQueen found in the skies above Santa Paula. The documentary features interviews with Steve's wife Barbara Minty McQueen who, as a New York model and amateur photographer, took hundreds of never-before-seen candid photographs of Steve in his last years. Other interviews include Academy Award®-winning actor Mel Gibson, renowned stuntman Stan Barrett, celebrated McQueen biographer Marshall Terrill, actors Barbara Leigh and Mel Novak, as well as the pilots who taught Steve to fly.
"Steve McQueen's life changing story has never been shared in this way before," Fathom Events CEO John Rubey said. "We're proud to bring this inspiring documentary to the big screen for one night, as audiences get to know the legendary actor in a new light."
"It's wildly ironic that one of the world's most well-known men did something important that most people are unaware of," said Harvest Ministries' Greg Laurie, event host. "'Steve McQueen: American Icon' documents a top star's exodus from a world of fame and fortune to search for meaning, truth and significance."