New ESPN App with ESPN+ Streaming Service
The new ESPN App has launched with a completely re-imagined experience that includes the seamless integration of ESPN+, the first-ever multi-sport, direct-to-consumer premium subscription streaming service from The Walt Disney Company's Direct-to-Consumer and International group, in partnership with ESPN. At launch, the new ESPN App will be presented by Audi and ESPN+ will be backed by American Express.
Already the industry benchmark and number one sports app, the new ESPN App – now combined with ESPN+ – elevates the digital sports experience, giving sports fans the premier, all-in-one digital sports platform with easy access to all of ESPN's news, scores, analysis, video and audio content. With enhanced design and mobility in mind, the new ESPN app and ESPN+ are available across mobile and connected living room devices — with an optimized experience for each platform.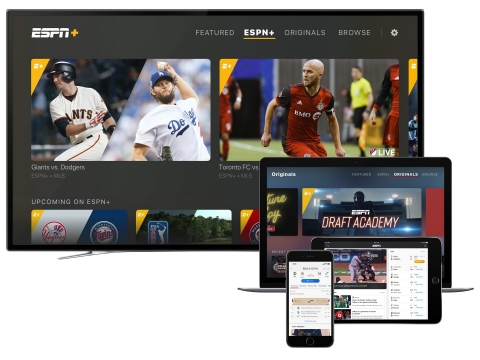 THE ESPN APP PRESENTED BY AUDI: THE PREMIER, ALL-IN-ONE DIGITAL SPORTS PLATFORM
The new ESPN App presented by Audi is now more personal and dynamic than ever – delivering a unique experience to every fan, while also enabling meaningful curation and presentation from ESPN's unmatched storytellers, journalists and content creators. Its design and technological platform elevates the leading sports app to new levels of quality and gives fans a premier, all-in-one digital access point for everything ESPN offers, including:
SCORES, NEWS, HIGHLIGHTS, AUDIO: The world's leading sports scores, news, features and analysis, video highlights and clips, and the leading library of live and on-demand sports audio content;
"TV EVERYWHERE" VIDEO: Authenticated live and on-demand access for pay TV subscribers to ESPN's U.S. linear and digital networks (ESPN, ESPN2, ESPN3, ESPNU, ESPNEWS, SEC Network, SEC Network +, ESPN Deportes, ESPN Goal Line, ESPN Bases Loaded, Longhorn Network, ACC Network Extra);
ESPN+: Direct-to-consumer subscription streaming access to thousands of additional live sporting events, original content and shows, and on-demand video library.
The app's new design delivers a rich, easy-to-use interface that enhances personalization and discoverability – presenting content in a myriad of ways to customize it to each individual fan. The powerful technological platform surfaces ESPN content based on favorite teams, sports and leagues as well as ESPN's award-winning journalism and personality, anytime, anywhere, better than ever.
On mobile devices, the ESPN App has five primary navigation menus:
HOME: The most personalized and complete content experience. A dynamic feed that allows each fan to be presented with any type of relevant ESPN content and coverage — scores, news, video clips, live events, features, analysis, graphics, statistics and more. The home feed balances what is important to each individual fan and the most important and compelling content that ESPN knows sports fans need.
SCORES: Immediate access to all the latest scores that fans follow every day, prioritizing favorite teams and sports right at the top.
WATCH: A new, completely re-imagined and fully integrated live and on-demand video experience featuring three tiers of video access, all powered by BAMTECH Media's best-in-class video platform:

Video Clips and Highlights – accessible to all users, ESPN offers the most complete library of highlights, clips and short-form sports video – logging hundreds of millions of views every month;
"TV Everywhere" Streaming – for pay TV subscribers, live and on-demand access to ESPN's U.S. linear and digital networks;
ESPN+ – for subscribers of the direct-to-consumer streaming service, access to thousands of additional live sporting events, original content and shows, and on-demand video library.
LISTEN: The leading library of sports audio content, including live ESPN Radio streaming and a lineup of top sports podcasts accessible on demand.
SPORTS: One-click access to a fan's favorite teams, leagues and sports and quick navigation to complete coverage of any of the dozens of sports and leagues ESPN covers around the world.
On digital living room devices, the ESPN App delivers a dynamic and comprehensive sports streaming experience, with four primary navigation menus:
FEATURED: A curation of content stacks aggregating live events, on-demand programming, clips and highlights from across all ESPN networks, platforms and ESPN+ personalized to a fan's favorite teams and sports as well as ESPN's editorial picks.
ESPN+: A dedicated ESPN+ section surfacing the best live, upcoming, on-demand and library content available to subscribers.
ORIGINALS: Bringing ESPN's unmatched library of on-demand shows, films, editorial features, long-form storytelling and more to life, allowing fans to discover and binge VOD content anytime, anywhere.
BROWSE: Discover the entire library of on-demand content available, including featured programming and recommendations.
ESPN+ BACKED BY AMERICAN EXPRESS: MORE SPORTS. MORE GAMES. MORE ESPN
ESPN+ backed by American Express leverages BAMTECH Media's video and commerce platform to offer fans thousands of additional live events, on-demand content and original programming not available on ESPN's linear TV or digital networks. This includes hundreds of MLB, NHL and MLS games, Grand Slam tennis, Top Rank boxing, PGA Tour golf, college sports, international rugby, cricket, the full library of ESPN Films (including 30 for 30) and more."For the launch of ESPN+, our focus has been on applying the innovations in direct-to-consumer technology we've built at BAMTECH over the years to create an all-new best-in-class consumer experience that brings sports fans more of the content they love, wherever, whenever they want," added Michael Paull, President, BAMTECH Media. "ESPN+ launches with several exciting product features, including an upgraded HD stream quality to make the action crisper and cleaner, and decreased video load time, getting fans into the live action faster."
As part of a subscription to ESPN+, fans will receive app and streaming experience enhancements that include:
Value & Flexibility – 7-day free trial, followed by a subscription fee of just $4.99 a month or $49.99 a year, with the ability to cancel at any time. During the first week of launch (April 12-18) fans are being offered a special extended 30-day free trial subscription backed by American Express;
HD Streaming – high-definition, 60 frames per second stream quality makes the action crisper and cleaner;
Live Pause, Rewind and Restart – pause, rewind and start-from-the-beginning functionality for all live and on-demand content, all with the ability to multitask on devices while streaming;
Limited Advertising – ESPN+ subscribers get a differentiated advertising experience throughout the entire ESPN App or website, with no display ads and no pre-roll ads within video content (ads remain in the natural advertising breaks of live sports content);
Sports Marketplace – the ability to also subscribe to additional premium streaming services like MLB.TV (and NHL.TV, beginning in 2018-19) all within the ESPN app environment.
At launch, the new ESPN App with ESPN+ will be available on the following devices and platforms, with more to follow:
Amazon – Fire TV, Fire TV Stick, Fire TV smart TVs and Fire Tablets (4th generation and newer).
Apple – iPhone, iPad and Apple TV. The ESPN App with ESPN+ will also be supported in the Apple TV App on iPhone, iPad and Apple TV.
Google – Android phones, Android TV and Chromecast.
ESPN+ PROGRAMMING
Subscribers will have access to a programming lineup powered by four key pillars of content that include thousands of live sports events, high-quality original shows and films, exclusive studio programs and an unmatched on-demand library.
LIVE SPORTS – Thousands of games and events from professional leagues and international sports as well as college sports from nearly two dozen conferences across the country, including:
MLB – A daily game, seven days per week, throughout the regular season, a total of more than 180 games that will include every MLB team.*
NHL – Beginning with the 2018-19 season, a daily game throughout the regular season (in keeping with the NHL schedule), a total of more than 180 hockey games* — as well as on-demand replays of the 2018 Stanley Cup Playoffs.
MLS – the entire MLS LIVE out-of-market schedule with more than 250 games* this season, as well as the local-market home for the Chicago Fire, exclusively bringing 23 Fire matches to fans in Chicago.
College Sports – thousands of live events – including football, basketball, baseball, softball, soccer, track & field, gymnastics, swimming & diving, lacrosse, wrestling, volleyball, golf and more – from 20 conferences across the country.
Top Rank Boxing – Hundreds of live boxing matches, including 18 ESPN+ exclusive Top Rank fight cards throughout the year, all Top Rank on ESPN undercard fights, re-airs of all Top Rank on ESPN and Top Rank on ESPN PPV bouts, plus weigh-ins and more.
PGA Tour Golf – 50 days of coverage from 20 PGA tour events, including the RBC Heritage, THE PLAYERS Championship, the Memorial Tournament presented by Nationwide, WGC-Bridgestone Invitational, the FedExCup Playoffs and more.
Grand Slam Tennis – Hundreds of men's and women's singles, doubles and other matches, from the Australian Open, Wimbledon and the US Open.
Cricket – Hundreds of Test, ODI and T20 format matches from New Zealand Cricket and Cricket Ireland.
Rugby – Hundreds of matches from SANZAAR Rugby, the HSBC World Rugby Sevens series, and Major League Rugby.
Canadian Football League – Nearly 200 games from Canada's professional league.
English Football League – Approximately 200 total matches, including an average of four per week from Sky Bet Championship Playoffs, League 1 and League 2, plus six matches per month from the EFL Cup (beginning in August) and 16 matches per month throughout the EFL 2018-19 season.
UEFA Nations League – Over 100 live matches from the newly created tournament. Pay TV customers with an ESPN+ subscription will be able to access the entire tournament including the 36 UNL matches on ESPN linear networks and ESPN3.
United Soccer League – Approximately 450 USL matches this season.
ORIGINALS – Exclusive, original content developed specifically for ESPN+, including original documentaries, docu-series and more.
30 for 30 Documentary "The Last Days of Knight" – The first film in the award-winning series to appear exclusively on ESPN+.
Draft Academy – Exclusive access to ESPN's series that delivers a personal, behind-the-scenes look at top prospects leading up to the 2018 NFL Draft.
Quest for the Stanley Cup – Weekly behind-the-scenes documentary series that goes on the ice, in locker rooms, and inside the minds of the players and coaches for an all-access pass during the high-stakes NHL Playoffs.
SHOWS – New and exclusive ESPN studio programming devoted to multiple sports and sports topics, including:
Detail (NBA) – Written, produced and hosted by Kobe Bryant, this basketball analysis show will provide his unparalleled insights and game observations about an ESPN-covered game played the day before.
In The Crease (NHL) – A nightly hockey show co-hosted by ESPN's Linda Cohn and Barry Melrose providing comprehensive highlights and analysis.
ESPN FC (Soccer) – ESPN's daily soccer news and information, highlights and analysis program hosted by Dan Thomas joined by top analysts and ESPN's renowned journalists from around the globe. New shows will be available weekdays and Sundays only on ESPN+.
LIBRARY – An unmatched sports archive featuring thousands of hours of on-demand programs and past sporting events. At launch, this includes:
30 for 30 Archive – The entire archive of the award-winning documentary films (more than 100 in total). ESPN+ will be the only platform where fans can access the full library.
E:60 and SC Featured – The best of ESPN's award-winning newsmagazine program, E:60, and storytelling brand, SC Featured.
The Masters Films – Annual recaps of 57 years of The Masters, beginning with Arnold Palmer's 1960 victory, and going right up until 2017.
Becoming – A program for youth and families, profiling the journeys of some of today's top athletes and how they got their start. Co-executive produced by LeBron James and business partner Maverick Carter.
Jon Gruden's QB Camp – More than 60 episodes of Jon Gruden working with and talking to top QB prospects before they played a snap in the NFL. Among the subjects: Jimmy Garoppolo, Case Kennum, Russell Wilson, Andrew Luck, Cam Newton, Derek Carr and Dak Prescott.
Indy 500 – More than 50 annual documentaries capturing the stories of one of the world's greatest auto racing events, from the 1960s to present day.
Boxing Libraries – an unmatched, on-demand treasure chest of the greatest fights of all time, including hundreds of fights from the ESPN Big Fights Library and the Top Rank archive, such as Ali vs. Frazier I-III, Ali vs. Foreman, Duran vs. Leonard I-III, Hagler vs. Hearns,Mayweather vs. Pacquiao, among many, many more.