P.F. Chang's – New Lunch Bowls & Brings Budweiser Back as Part of New Bar Menu
P.F. Chang's is launching wok-fired, made-from-scratch lunch bowls along with a new beer and custom cocktails menu in restaurants across the U.S. Executive Chef Yuji Iwasa developed five new regionally inspired Asian bowls and reimagined three P.F. Chang's classics to create a brand new lunch experience. Guests can begin ordering Korean Bibimbap, Chiang Mai Noodle Bowl, Tokyo Udon Noodle Bowl, and the rest of the new lunch bowl menu on March 20.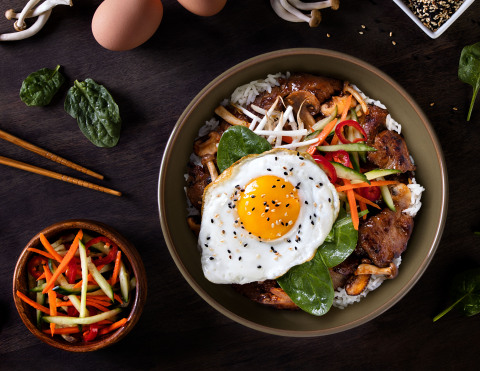 P.F. Chang's New Lunch Bowl Menu
Korean Bibimbap – Chicken or steak, fresh greens, Asian mushrooms, and market vegetables over rice, topped with a fried egg and kimchi slaw. Bibimbap means mixed rice – so mix this one up before enjoying! Spicy!
Chiang Mai Noodle Bowl – Marinated chicken, ramen noodles, coconut curry broth, grape tomatoes and wonton crisps.
Tokyo Udon Noodle Bowl – Chicken or steak, Udon noodles, fresno peppers, green onion, mushrooms and fresh basil. Spicy!
Thai Harvest Curry – Red curry, butternut squash, five-spice tofu, rustic vegetables, Asian mushrooms, topped with Fresno peppers.
Tempura Bowl – Shrimp and vegetable tempura atop fried rice, served with sweet chili dipping sauce.
Mongolian Beef Bowl – Sweet soy glaze, flank steak, garlic and snipped green onions.
Chang's Spicy Chicken Bowl – Our signature sweet-spicy chili sauce, chicken and green onion. Spicy!
Crispy Honey Chicken Bowl – Lightly battered chicken in tangy honey sauce with green onion.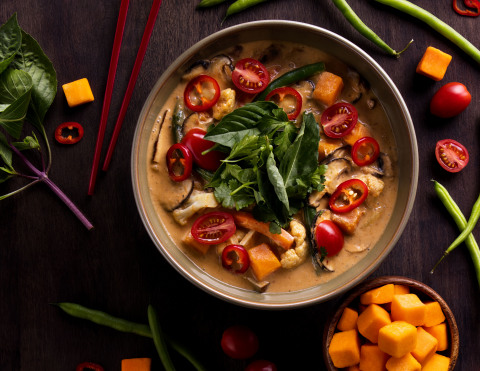 After a multi-year hiatus, P.F. Chang's is also bringing back Budweiser and Bud Light on tap, along with several new Asian beers, including Tiger Lager and Hitachino Red Rice Ale, and a completely new beverage menu. The brand's beverage team worked in tandem with the culinary team to develop new drinks that pair beautifully with the entire menu.
New Cocktails
Blushing Geisha – Deep Eddy Grapefruit Vodka, blood orange puree, fresh lemon juice, topped with chia seeds.
Red Dragon – Our version of a Boulevardier, made with Gentleman Jack Whiskey, sweet vermouth, Aperof, blood orange puree, and a fresh orange slice.
Japanese Old Fashioned – An Asian twist on a classic, made with Suntory TOKI Japanese Whisky and served over an ice square.
Sparkling Blossom – Grey Goose Vodka, St.-Germain Elderflower Liqueur, fresh lemon juice and Prosecco.