Wayfair's "View in Room 3D" mobile app
Wayfair announced that its 3D visualization feature is now available to millions of consumers across the Android ecosystem. Built with ARCore, Google's augmented reality platform, Wayfair's "View in Room 3D" mobile app feature makes it possible for shoppers to see virtual furniture and décor in their homes before they buy.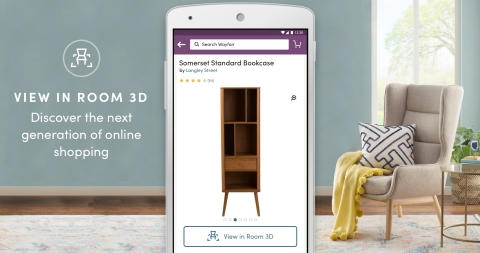 To visualize furniture and décor in their home, shoppers can simply tap "View in Room 3D" in the Wayfair mobile shopping app. All 3D products are at full scale and anchor to the floor, so shoppers can see a variety of life-size products in their home without having to grab the measuring tape. Shoppers can then quickly and easily purchase their favorite items with the confidence that they will look great and fit in their space all within the Wayfair app.
"We knew early on that augmented reality had the potential to completely transform the way people shop for their homes, and as it's quickly moved toward mainstream adoption, we're excited to have played an integral role in shaping the experience for millions of shoppers," continued Conine. "The launch of ARCore brings the power of augmented reality to even more consumers, and we're proud to deliver a useful and practical application of this innovative technology to our customer."
Wayfair's View in Room 3D mobile app feature was built with ARCore, which is supported on more than 100 million Android devices. Click here to download the Wayfair app. For a demo and screen shots visit http://bit.ly/WayfairViewinRoom3D_ARCore.