Portobello Pizza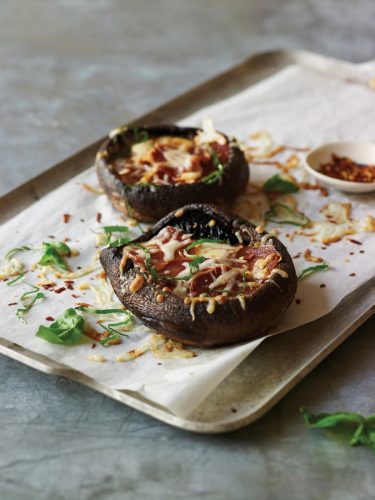 Portobello Pizza
Active time: 10 minutes
Total time: 40 minutes
Serves: 4
             Olive oil spray
 4          large Portobello mushrooms, stems removed
 1/2       cup low-sugar marinara sauce
 1/2       cup (2 ounces) shredded mozzarella cheese
 16        slices pepperoni sausage or 1 chorizo link, thinly sliced
Heat oven to 375 F.
Line baking sheet with parchment paper. Coat with olive oil spray.
Using spoon, scrape out dark gills from mushrooms; discard gills.
Place mushrooms stem-side up and top each with 2 tablespoons sauce. Sprinkle each with 2 tablespoons mozzarella cheese and four slices pepperoni or chorizo.
Bake 20-25 minutes, until cheese is bubbly and mushrooms are soft.