Roku OS 8, delivering enhanced features
Roku OS 8, delivers enhanced features that add convenience and value to a Roku TV user's streaming experience. With a focus on bridging the gap between free, local broadcast TV received via HDTV antennas and streaming, the company unveiled several new Roku TV features, including a Smart Guide that shows over-the-air (OTA) broadcast TV and streaming options to help customers search for, find and discover entertainment. Other new features included in the update allow for easier search and voice control, such as enhanced voice commands allowing a user to launch streaming channels, switch inputs or control their Roku TV; TV Everywhere (TVE) single sign-on to eliminate having to enter login credentials multiple times; an updated 4K Spotlight Channel and more.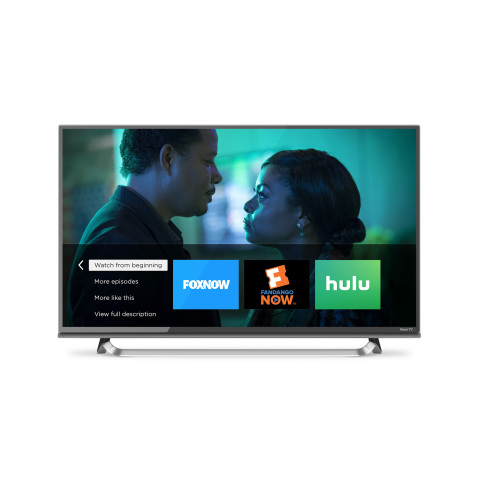 SEAMLESS ENTERTAINMENT FOR ROKU TV USERS USING OVER-THE-AIR ANTENNAS
Smart Guide: An electronic program guide for Roku TVs that seamlessly integrates information for local broadcast TV via an antenna with streaming options allowing customers to search for, find and discover entertainment. The guide provides program information for local antenna broadcast TV channels from seven days in the past to up to 14 days in the future. Smart Guide also integrates the More Ways to Watch feature so users can see additional streaming options, such as: watch a movie or show from the beginning, see more episodes or browse similar entertainment. Over time, Smart Guide will even identify favorite broadcast channels available over-the-air by placing most viewed channels at the top of the program guide.
Roku Search for Over-the-Air Content: Local antenna broadcast TV options are now included in Roku Search results for Roku TV customers who use a TV antenna to receive free local broadcast TV. Roku search already spans across 500+ streaming channels and now, when a TV antenna is connected, will include results for local broadcast TV along with streaming options sorted by what is free or lowest cost for the viewer. Users can also search for antenna TV content via the Roku mobile app.
Voice Control: Roku TVs now feature voice controls to make it easy to switch inputs, tune to a local antenna broadcast channel, launch a streaming channel and more. Voice controls for Roku TVs can be used via enhanced remotes with the microphone button or through the free Roku mobile app for iOS® and Android™ mobile devices.
Fast TV Start: Allows a Roku TV to start quickly and launch a streaming or antenna TV channel in seconds simply using a voice command. For example, a user can say "launch Hulu" and the TV will turn on and open the Hulu streaming channel. Or, if they say, "tune to ABC," the TV will turn on and tune to the local ABC station if an antenna is connected to the Roku TV.
Private Listening for Over-the-Air Content: Roku TV users with an antenna connected to their TV can now use private listening to hear audio for local antenna broadcast content either using their mobile device via the Roku mobile app or through the headphone jack on the remote control on select Roku TV models. This feature is also available for streaming.
QUICKER, EASIER ACCESS TO CONTENT FOR ALL ROKU DEVICES
Enhanced Voice Features: Voice search now includes natural language understanding and can search for movies, shows, actors and directors, or even launch streaming channels, in a more conversational tone. For example, a user can say things like, "show me movies with Tom Hanks," "launch Hulu," or even more detailed searches such as "show me comedies with Will Ferrell."
TV Everywhere Single Sign-On: TVE single sign-on, available for pay TV customers, eliminates the need to log in to TVE channels repeatedly. Customers who subscribe to Dish, Cox, AT&T and hundreds of other providers will enjoy the convenience of single sign-on when using 30 TVE channels. More providers are expected to be added to the feature over time.
4K Spotlight Channel Update: The redesigned Roku 4K Spotlight Channel makes it easier than ever to find 4K, HDR and Dolby Vision™ content available on the Roku platform for players and TVs that support these standards. The 4K Spotlight Channel now features a new navigation menu to help users quickly select the type of content they wish to view, inclusion of more content categories to easily browse by genre, and the option to choose from multiple streaming channels if a movie or show is available from more than one provider.
Availability
Roku OS 8 will begin rolling out to Roku players in early October, and Roku TV models beginning in November. The software update is expected to rollout to all Roku devices by the end of the year.