Spring homebuying season kicks off strongly as prices and sales propel higher, C.A.R. reports
California's spring housing market posted a strong start to the year as existing home sales and median price registered healthy gains in March on both a monthly and annual basis, as did every major region in the state, the CALIFORNIA ASSOCIATION OF REALTORS® (C.A.R.) said today.
Closed escrow sales of existing, single-family detached homes in California remained above the 400,000 benchmark for a full year and totaled a seasonally adjusted annualized rate of 416,580 units in March, according to information collected by C.A.R. from more than 90 local REALTOR® associations and MLSs statewide. The statewide sales figure represents what would be the total number of homes sold during 2017 if sales maintained the March pace throughout the year. It is adjusted to account for seasonal factors that typically influence home sales. The March figure was up 4 percent from the 400,720 level in February and up 6.9 percent compared with home sales in March 2016 of a revised 389,770.
"March's solid sales performance was likely influenced by the specter of higher interest rates, which may have pushed buyers off the sidelines and close escrow before rates moved higher," said C.A.R. President Geoff McIntosh. "The strong housing demand, coupled with a shortage of available homes for sale, is pushing prices higher as would-be buyers try to purchase before affordability gets worse."
Following back-to-back monthly price declines, the median price of an existing, single-family detached California home climbed back above $500,000 in March. The median price was up 8 percent from $478,570 in February to reach $517,020 in March, and was 6.8 percent higher than the $484,120 recorded in March 2016. The median sales price is the point at which half of homes sold for more and half sold for less; it is influenced by the types of homes selling, as well as a general change in values.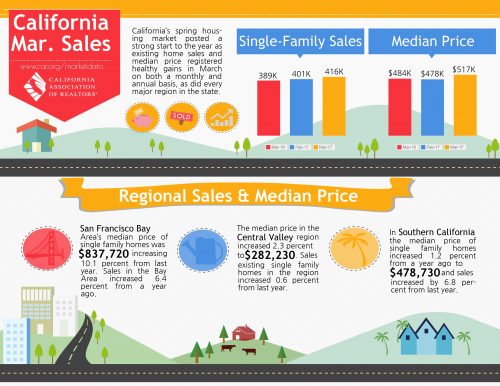 "The spring homebuying season is off to a good start, as the economic and market fundamentals remain solid for the most part," said C.A.R. Senior Vice President and Chief Economist Leslie Appleton-Young. "However, higher interest rates, a dearth of housing inventory, and slow wage growth will continue to have an adverse effect on housing affordability that is putting upward pressure on home prices, and is sure to hamper the market throughout the year."
Other key points from C.A.R.'s March 2017 resale housing report include:
New statewide active listings continued to decline, falling 12 percent from a year ago, and contributed to a full one-month drop in the unsold inventory index.
The substantial decline in new listings combined with March's robust sales brought down C.A.R.'s Unsold Inventory Index to its lowest level so far this year and the third lowest level in more than three years. The index, which measures the number of months needed to sell the supply of homes on the market at the current sales rate, dropped a full month to 3.0 months in March from 4.0 months in February. The index stood at 3.6 months in

March 2016

.
The median number of days it took to sell a single-family home fell from 33.5 days in February to 26.7 days in March and was down from 29.9 days in

March 2016

.
C.A.R.'s sales-to-list price ratio* was 99.3 percent of listing prices statewide in March, 98.6 percent in February, and 98.9 percent in

March 2016

.
The average price per square foot** for an existing, single-family home statewide was

$252

in March,

$241

in February, and

$232

in

March 2016

.

San Francisco County

had the highest price per square foot in March at

$872

/sq. ft., followed by

San Mateo

(

$838

/sq. ft.), and Marin (

$688

/sq. ft.). Counties with the lowest price per square foot in March included

Del Norte

(

$115

/sq. ft.),

Lassen

(

$118

/sq. ft.), and

Siskiyou

(

$125

/sq. ft.).
Mortgage rates have risen since last fall. The 30-year, fixed-mortgage interest rate averaged 4.20 percent in March, up from 4.17 percent in February and up from 3.69 percent in

March 2016

, according to Freddie Mac. The five-year, adjustable-rate mortgage interest rates dipped in March to an average of 3.21 percent, from 3.20 percent in February and 2.90 percent in

March 2016

.