Subway, New Signature Wrap Collection
Subway® boldly takes its seat at the head of the table, showing who's got the chops when it comes to mastering the art of wraps, as it rolls out a new Signature Wraps Collection in the U.S.
The crave-worthy, protein-packed wraps come in bold, flavorful choices—all featuring double the meat of an average 6-inch sub, plus a unique combination of veggies, cheese and sauces. To be clear—these wraps are a meal, not a tiny snack.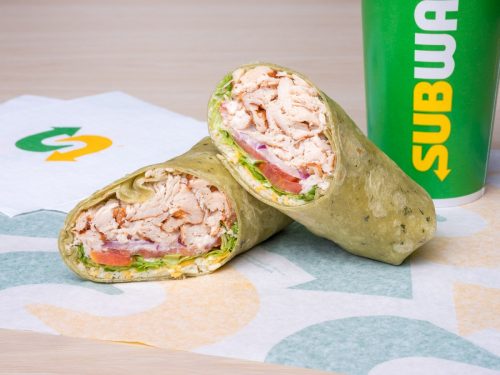 Initially introduced in Maine, and tested in key markets across the U.S., the three wraps are now available nationwide. They are:
Chipotle Southwest Steak & Cheese features savory steak, shredded Monterey cheddar, crisp lettuce, sliced tomatoes, green peppers, and onions, topped with jalapeños, guacamole, and spicy Chipotle Southwest sauce—all wrapped in a tasty Tomato Basil wrap.

Turkey

, Bacon & Guacamole is made with tender turkey breast, crisp bacon, provolone cheese, crisp lettuce, sliced tomatoes, and onions, topped with guacamole and creamy Ranch dressing, and served on a Tomato Basil wrap.
Savory Rotisserie-Style Chicken Caesar is filled with juicy, tender, hand-pulled Rotisserie-Style Chicken, shredded Monterey cheddar, crisp lettuce, and sliced tomatoes, topped with Parmesan cheese, and Savory Caesar sauce, and folded into a delicious Spinach wrap.
And, in keeping with Subway's long history as the leader in customization, guests always have the option to create their own Signature Wrap. "Make It What You Want™" using the wide variety of ingredients available at all Subway restaurants and wrapped up in a flavorful Tomato Basil or Spinach wrap.
The new line of Signature Wraps is Subway's biggest core menu addition in the U.S. since the introduction of Rotisserie-style Chicken in 2016. And, according to Len Van Popering, who recently joined Subway to fill the newly created role of Vice President of Global Brand Management and Innovation, "this is just the beginning."
In coming months, Subway will be adding new Signature Wraps to catering platters and in Subway To Go!™ Box Meals.
For more information, including nutrition information, please visit Subway.com.