SONIC's New Dunked Ultimate Chicken Sandwich
SONIC® Drive-In is adding to its robust chicken lineup with the introduction of the all-new Dunked Ultimate Chicken Sandwich featuring an innovative blend of bold flavors to a guest favorite.
SONIC's Dunked Ultimate Chicken Sandwich features a flavor-loaded, quality chicken sandwich "dunked" in rich, bold sauce over a premium all-white meat chicken fillet on a warm brioche bun. Slam-dunked in flavor, guests can choose from three premium sauces: Bourbon BBQ, a rich bourbon BBQ sauce with a smoky & sweet linger; Buffalo made with hot and spicy cayenne, red chili peppers and a touch of chipotle; and Garlic Parmesan with Parmesan cheese, roasted garlic and Italian herbs.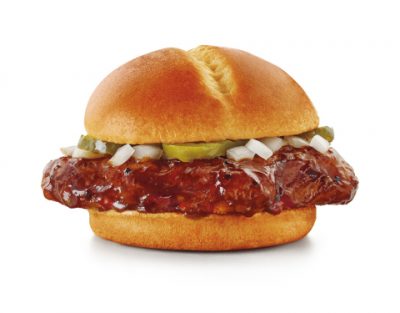 "Adding three bold new sauces to our Ultimate Chicken Sandwich offers guests an incredible chicken sandwich experience," said Scott Uehlein, vice president of product innovation and development for SONIC. "When combining our three sauces with fresh ingredients, like our smoky Bourbon BBQ with crisp, crinkle-cut pickles or our Buffalo sauce mixed with cayenne pepper topped with spicy jalapenos, it complements the all-white meat chicken fillet while giving guests flavors they can't get anywhere else."
Pair the new Dunked Ultimate Chicken Sandwich with a side of Tots and a Cherry Limeade and let your taste buds savor the superior chicken sandwich. The Dunked Ultimate Chicken Sandwich will be available only for a limited time so get your hands on one at a drive-in near you before they're gone.