Top Pay-TV Providers Bring Holiday Cheer to Subscribers with Santa Tracker
Major pay-TV service providers in the U.S. and Canada will again invite their viewers to celebrate the season with the latest release of the highly popular Santa Tracker—an interactive experience from zone·tv dedicated to all things Santa. Most notably, children and families anxiously awaiting Santa's arrival can track his path across the globe on Christmas Eve through this immersive destination.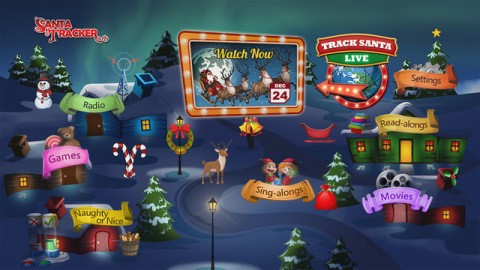 Santa Tracker features:
Zone·tv-produced original programming which tracks Santa on his trek to 30 different locations around the world
A movie collection of more than a dozen holiday and Christmas titles available for purchase including Elf, The Polar Express, Home Alone, Jingle All The Way, Jack Frost, and A Christmas Story
Rudolph Radio, a curated selection of holiday favorites, including holiday kids and smooth jazz Christmas songs
Games including Holiday Sparx, Jolly Dropper and Cookie Crumble
Read-along story books in English and Spanish, with more than 15 titles including A Penguin Story and The Bears We Know
Holiday sing-alongs offering 35-plus songs in karaoke mode, including Blue Christmas and Auld Lang Syne from Stingray Digital
Christmas countdown calendar that unlocks new daily challenges every day leading up to the big event
Exclusive Christmas-themed videos
This unique seasonal programming is available now on Xfinity X1 in the kids and holiday sections of Xfinity on Demand and can also be found in the app menu. Customers with an X1 voice remote can say "Santa Tracker" to launch the destination. Santa Tracker can also be found on AT&T U-verse on channels 1098/324/1324; DIRECTV on channels 110; Frontier Communications on 98/1098; and CenturyLink on 91/ 1093 in Ft Myers and 93/ 1093 in all other markets.
In Canada, Santa Tracker can be enjoyed through the TELUS kids' section of the guide, and on Bell Fibe TV (Central) channel 149/ 540/ 1149/ 1540/ 1212; Bell Fibe TV (Aliant) channel 456/ 513/ 559.
Santa Tracker is a very popular channel, watched by as many as 30% of consumer homes which had access to the programming last year.
"Santa Tracker proved its popularity during the 2016 Christmas season and we are happy to see our affiliates return this year to share this family-friendly interactive experience with their subscribers," said Jeff Weber, CEO, zone·tv "This is a continuation of our commitment to developing unique, seasonal and special interest programming, such as our recently concluded Halloween Countdown on Xfinity X1."