Toshiba MQ04 Series 1TB HDD, for notebook PCs, game systems, all-in-one slim-line desktops
Toshiba America's  new MQ04 Series 1TB1 HDD, which is compatible with notebook PCs, game systems, all-in-one slim-line desktop systems, set-top box appliances, and other applications requiring high capacity and durability storage.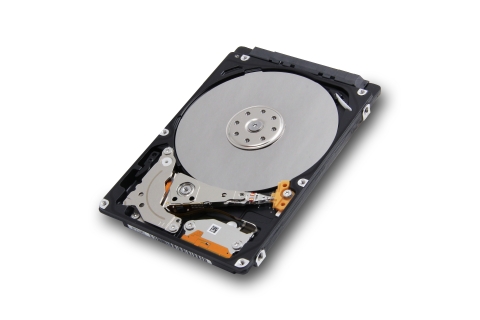 The MQ04 Series single-disk model delivers 1TB of data storage capacity in an ultra-compact 2.5-inch, 7mm height form factor. The drive's 6 Gbit/s2 SATA interface and 5,400 rotational speed combined with a large 128MiB3 buffer and consistent seek performance, result in a 34 percent higher internal transfer rate performance when compared to the previous 1TB MQ01 Series models. The new model is also quieter and weighs less than prior generations.
1 Definition of capacity: Toshiba defines a megabyte (MB) as 1,000,000 bytes, a gigabyte (GB) as 1,000,000,000 bytes and a terabyte (TB) as 1,000,000,000,000 bytes. A computer operating system, however, reports storage capacity using powers of 2 for the definition of 1TB = 240 bytes = 1,099,511,627,776 bytes and therefore shows less storage capacity. Available storage capacity (including examples of various media files) will vary based on file size, formatting, settings, software and operating system, such as Microsoft Operating System and/or pre-installed software applications, or media content. Actual formatted capacity may vary
2 Read and write speed may vary depending on the host device, read and write conditions, and file size.
3 A kibibyte (KiB) means 210, or 1,024 bytes, a mebibyte (MiB) means 220, or 1,048,576 bytes, and a gibibyte (GiB) means 230, or 1,073,741,824 bytes.