VIZIO – New 2018 M-Series 4K HDR Smart TVs Featuring Bezel-Less Design
VIZIO, Inc. unveiled its all-new M-Series 4K HDR Smart TV collection. Building on an award-winning legacy, the M-Series is the ideal solution for consumers seeking the best balance of picture quality technologies and a robust smart TV experience, wrapped in a beautiful bezel-less design. Complete with step-up high dynamic range advancements like Active Full Array Plus, UltraBright 600 and Dolby Vision™ HDR, the 2018 M-Series delivers on bolder colors, striking contrast and all-around extraordinary performance. The collection features VIZIO 2018 SmartCast OS and is an ideal smart home companion with voice support for Amazon Alexa and Google Assistant. Offered in 55″, 65″ and 70″ class sizes, the 2018 M-Series 4K HDR Smart TVs are now available on VIZIO.com and coming soon to retailers such as Costco, Sam's Club, Target and Walmart. Pricing ranges from an MSRP of $699.99 for the 55″ class size to an MSRP of $1,499.99 for the 70″ class size.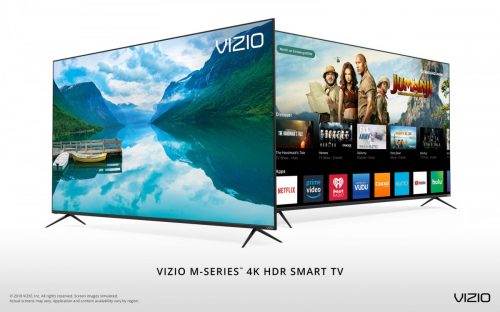 The 2018 M-Series 4K HDR Smart TV collection allows viewers to get more out of every pixel thanks to added brightness, enhanced black details and more vibrant color. While Dolby Vision HDR offers an expanded range of contrast, UltraBright 600 delivers added luminance with up to 600 nits of peak brightness, bringing out stunning details in even the brightest scenes. Other HDR content formats such as HDR10 and HLG are also supported, ensuring consumers have a variety of HDR compatibility options. VIZIO's Active Full Array Plus backlight enriches picture quality by producing stunning contrast levels. Up to 48 local dimming zones allow LEDs to dynamically adjust to match the light and dark portions of on-screen content, ensuring deep blacks, vibrant whites and added depth so details do not get lost in the shadows. Clear ActionTM 360 ensures viewers can enjoy fast action content with superior motion clarity thanks to powerful image processing and a 120Hz effective refresh rate achieved with backlight scanning.
From everyday users to cord-cutters and smart home enthusiasts, the 2018 SmartCast OS ensures VIZIO users are met with a versatile and intuitive smart TV experience. Popular apps like Netflix, Prime Video, Vudu, iHeartRadio, Crackle and Xumo can be instantly accessed on the TV screen using the included remote1. Users can also download the free SmartCast Mobile™ app to turn their smartphone into a touchscreen remote. To round out the streaming app experience, SmartCast OS features Google Chromecast built-in which allows users to access thousands of Chromecast-enabled apps for a range of free, subscription and paid content.
The VIZIO 2018 SmartCast OS also serves as the perfect smart home companion. With voice-control support for Amazon Alexa and Google Assistant, users can control their TVs without lifting a finger. By utilizing speaking commands, users can turn their TVs on and off, change channels or adjust volume – and for Google Assistant users, even stream content to the TV.
All the brilliant M-Series innovations have been wrapped up in an all-new, sleek three-sided bezel-less design. Edge-to-edge styling pushes the screen virtually to the edge of the display for a more immersive experience. This updated aesthetic, combined with outstanding picture quality performance and an intuitive smart TV experience, makes the 2018 VIZIO M-Series 4K HDR collection an ideal upgrade to any room..
2018 M-Series™ 4K HDR Smart TV Collection

VIZIO M-Series™ 55″ 4K HDR Smart TV

(M55-F0) 

MSRP $699.99

VIZIO M-Series™ 65″ 4K HDR Smart TV 

(M65-F0) 

MSRP $999.99

VIZIO M-Series™ 70″ 4K HDR Smart TV 

(M70-F3) 

MSRP $1,499.99
1 The third party applications and content described herein may only be available in certain countries and languages, may require additional fees or subscription charges, and may be subject to future updates, modifications, interruption and/or discontinuation of service without notice, and VIZIO has no control over such content.