Kindle Oasis: Featuring a 7-inch, 300 ppi Display, Waterproof Design, and Audible
Amazon announced its most advanced Kindle e-reader ever—the all-new Kindle Oasis, featuring our largest, highest-resolution Paperwhite display yet and a thin and light ergonomic design so you can read more comfortably for hours. The all-new Kindle Oasis is the first waterproof (IPX8) Kindle allowing you to read in even more places, from the bath to the swimming pool. The all-new Kindle Oasis has a battery life measured in weeks, not hours—and it includes a fast-charging capability that allows it to go from no battery to fully charged in less than two hours. With Audible built in, you can listen to the world's largest library of audiobooks and easily switch between reading and listening to a professionally narrated performance on Bluetooth headphones or speakers. The all-new Kindle Oasis is available for pre-order today at amazon.com for only $249.99 and will start shipping October 31, 2017.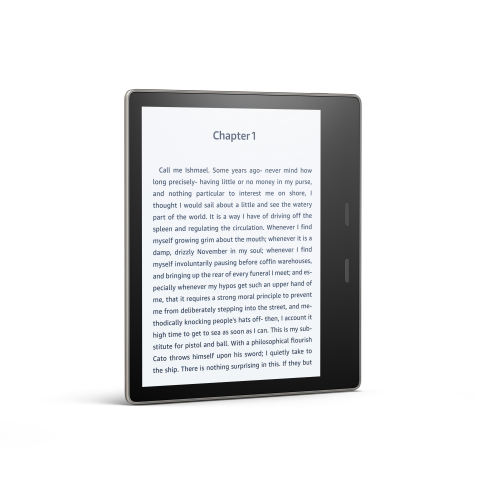 Designed for comfort and personalization
With a larger 7-inch, 300 ppi display, the all-new Kindle Oasis fits over 30 percent more words per page, resulting in fewer page turns. Plus, it has the fastest page turns of any Kindle e-reader. The crisp, laser-quality text reads like paper with uniform display lighting and no glare, even in bright sunlight. The ergonomic design shifts the center of gravity to your palm so the device rests in your hand like the spine of a book, no matter which hand you chose to read with. You can easily turn pages with dedicated page turn buttons and the display will automatically rotate the page orientation, even when you switch hands.
The device's unique shape tapers to an ultrathin 3.4 mm display featuring our strongest cover glass and a new aluminum back. The all-new Kindle Oasis is thin, light and durable—in fact, even with a larger display, the all-new Kindle Oasis weighs only 194 grams, 10 grams less than the best-selling Kindle Paperwhite.
The first waterproof Kindle
No more soggy pages with the all-new Kindle Oasis—it's IPX8 rated to protect against immersion in up to two meters of fresh water for up to 60 minutes. Plus, it's designed to withstand getting splashed at the beach or dropped in the bath tub, hot tub, or pool.
Take the story with you with Audible
You can now listen to the world's largest library of audiobooks on your all-new Kindle Oasis with Audible—choose from over 375,000 professionally performed audio programs, including audiobooks, original audio productions, and exclusive content. With Audible built in, you never have to put your story down and can switch easily between reading and listening without changing devices. Connect the all-new Kindle Oasis with a Bluetooth-enabled device, like speakers and headphones, and it's ready. You can also access the Audible store directly from the all-new Kindle Oasis to find your next great listen, including Grammy award-winning performances and A-list celebrities narrating popular titles.
Audible will be available on the all-new Kindle Oasis via a free over-the-air update when the device ships—and it will be available via a free over-the-air update to Kindle (Gen 8) and the first Kindle Oasis in the coming months. If you're new to Audible, sign up for a free trial and get two free audiobooks.
Larger storage capacity for more great content
The all-new Kindle Oasis comes with two storage options—8 GB, which has twice the storage as the first Kindle Oasis, and can hold thousands of titles; and 32 GB, allowing you to store even more rich content with large file sizes, like Audible audiobooks, comics, newspapers, magazines, and more.
Personalized comfort—read your book your way
There are more ways to personalize your reading settings on Kindle Oasis than ever before so you can enjoy your book the way you prefer:
New Font Size and Bold Settings: Now choose from more font sizes than ever before—and five levels of boldness—for whichever font you choose to read with. Combined with the new, 7-inch Paperwhite display, you can personalize your books so it's perfectly comfortable for your eyes.
New Accessibility Options: In addition to the OpenDyslexic font, we've added a feature to invert black and white on the display if you have light sensitivity. The new enlarged display option also lets you increase the size of items like the text on the home screen and library as well as the book icons to make the all-new Kindle Oasis easier to read.
Light Settings: Built-in ambient light sensors automatically adjust the display to your surroundings whether you're in a dimly-lit room or outside in the sun—and can be fine-tuned even further based on personal preferences.
Ragged Right Alignment: You can now read using left-aligned (ragged right) text.
Starting today, the new size and bold settings as well as ragged right alignment will be delivered as a free, over-the-air update to Kindle Paperwhite (Gen 6 released in 2013), plus all newer Kindle devices.
Thousands of books to choose from for Prime members
Prime Reading is available to all Prime members at no additional cost and offers unlimited access to a rotating selection of more than a thousand books, Audible narrations, magazines, comics, Kindle Singles, and more. With fiction, non-fiction, children's books, short works, and magazines right off of the newsstand, you'll always find something interesting to dive into, including Lonely Planet Travel Guides, Interpreter of Maladies, Animal Farm, and 1984, which are available right now as part of your Prime membership.
All the features readers love about Kindle
By design, Kindle e-readers are purpose-built for reading so you can lose yourself in a book. Unlike tablets and phones, a Kindle has no glare—even in bright sunlight—and won't distract you with social media, emails, text messages, notifications, and more. The all-new Kindle Oasis includes all of the features that have made the Kindle family the best devices for reading, enhancing the experience beyond a print book:
Whispersync and Whispersync for Voice—Saves and synchronizes your last page read, bookmarks, and annotations from your Kindle eBook and Audible audiobook across all of your Kindle devices and apps, so you can always pick up where you left off on any device, whether you're reading or listening. You can even switch between reading and listening on the same device and Whispersync will keep you in the right place in the story.
Worry-free archive—Automatically backs up your Kindle books in the cloud so you never need to worry about losing your books—re-download your books wirelessly anytime for free.
Goodreads—Kindle is integrated with the world's largest site for readers and book recommendations, with over 50 million members, 1.3 billion books added, and 47 million book reviews.
X-Ray—Explore the "Bones of the Book"—see all of the passages across a book that mention relevant ideas, fictional characters, historical figures, places, or topics of interest.
Word Wise—Available on many popular English language titles, Word Wise makes it easier to enjoy and quickly understand more challenging books. Short and simple definitions automatically appear above difficult words, so you can keep reading with fewer interruptions.
Family Library—With Kindle and Kindle reading apps, you can access not only your own books, but also books from the Amazon account of a spouse or partner.
Time to Read—Tells you how much time it will take to finish a chapter or a book based on your personalized reading speed.
Vocabulary Builder—Compiles words you look up in the dictionary into an easy-to-access list. Use these lists to quiz yourself with flashcards and instantly see words in context.
Share your favorite passages—Share book recommendations, highlighted sections, and meaningful quotes with friends via Facebook and Twitter.
Smart Lookup—Integrates a full dictionary definition with other reference information via X-Ray and Wikipedia.
Kindle FreeTime—Gives parents a simple, engaging way to encourage kids to spend more time reading. Hand-select books for your kids to read, and achievement badges are earned when they hit reading milestones.
World's Best eBook Store
Kindle e-readers come with instant access to the Kindle Store, which includes:
World's best selection—Millions of books, newspapers and magazines, including the latest best sellers, Kindle Singles, and programs like Prime Reading and Kindle Unlimited, both which continue to grow.
Kindle Unlimited—Our premium reading subscription and a great choice for readers who want even more. Kindle Unlimited offers over one million books, audiobooks, magazines, comics, kids' books and more—all for $9.99 after a 30-day free trial.
Kindle exclusives—Over 1,000,000 books are exclusive to the Kindle Store.
Kindle First—Access new Kindle books a month in advance of their official release date. Customers can choose one of the featured books each month for $1.99, and Prime members can make their selection for free—yet another benefit of Prime membership.
Pricing and Availability
The all-new Kindle Oasis is $249.99 for the 8 GB model and $279.99 for the 32 GB model—the 32 GB with free cellular connectivity is $349.99. All are available today for pre-order globally. Customers can also purchase a cover with a thin design that snaps perfectly onto the all-new Kindle Oasis and transforms into a stand for hands-free reading. The cover opens like a book, automatically waking the device when opened and putting it to sleep when closed. Choose from two materials in a variety of colors: water-safe fabric covers, all $44.99, come in Indigo, Sandstone, or Charcoal; and premium leather covers, all $59.99, come in Midnight, Saddle Tan, or Merlot. The covers fold into a stand to easily enable hands-free reading.