Walmart Helps Customers Rock Black Friday 2017
Tis the season for holiday parties, and Walmart is preparing to deliver an unbelievable Black Friday celebration. The retailer will offer the items and brands customers want – from Samsung Smart TVs and the most in-demand gaming consoles to the hottest toys and Pioneer Woman cookware – at the best prices of the season, and with more availability.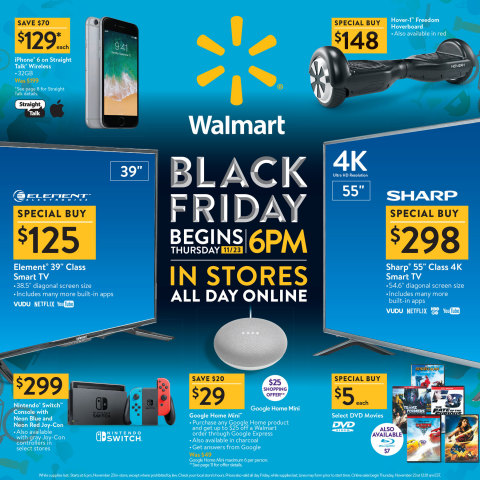 Key Moments:
Select rockin' deals on Walmart.com start today (Nov. 9)
Black Friday deals kickoff on Walmart.com at 12:01 a.m. ET on Thanksgiving morning (Nov. 23). The majority of Walmart stores' Black Friday deals, in addition to other great offers, will be available on Walmart.com
In-store event begins at 6 p.m. local time on Thanksgiving day
Walmart stores will be open all day* on Thanksgiving
"There's only one place to shop this Black Friday – Walmart," said Steve Bratspies, chief merchandising officer, Walmart U.S. "Whether a customer shops with us in our stores or online, we know exactly what they will be shopping for, and we will have it. I am proud of our assortment of top items and know we worked to offer them at the absolute best prices and in deeper quantities than the competition. Our associates and stores are more excited than ever and ready to help customers make their Black Friday a success."
Black Friday Deals Start Nov. 23
To make it easy for customers to leave Walmart with all of the Black Friday deals they're after, the retailer will have something for everyone – from $1.96 movies to a $998 Samsung 65-inch Class Curved 4K Smart TV. This year, Walmart is stocked with hundreds of deals and more availability of each of those event items than ever before. With nearly 10 million toys, more than 25 million DVDs and Blu-ray videos and enough kids' pajamas that, if stretched from end to end, would reach from Seattle to Miami, shoppers can be confident they'll get that great Black Friday deal they want at Walmart.
Customers can see all of Walmart's Black Friday deals starting today by viewing the retailer's event circular on Walmart.com or the Walmart app. Highlights include**:
The Season's Hottest Toys and Games including an exclusive Hatchimals Golden Lynx Egg for $49.88 (special buy), Frozen Sleigh 12-Volt Ride-On for $198 ($100 savings), Tickle Me Elmo for $15 ($9.84 savings), Hover-1 Freedom Hoverboard for $148 (special buy) and popular board games like CLUE and Connect 4 for $4.88 and Pie Face!, Monopoly and Simon for $9.88
Smart Televisions like an LG 49-inch Class 4K Smart TV for $328 (special buy), an Element 39-inch Class Smart TV for $125 (special buy) and a Samsung 65-inch Class Curved 4K Smart TV for $998 ($300 savings)
Streaming and Speaker Devices ranging from a VIZIO 32-inch 5.1 Sound Bar with Wireless Subwoofer for $139 (special buy) to a Google Chromecast for $20 ($15 savings) with a $5 Vudu credit
Hot Video Game Consoles including the Nintendo Switch Console with Neon Blue and Neon Red Joy-Con Controllers for $299, PlayStation 4 1TB Console for $199 ($100 savings) and Xbox One X Console for $499
Smart Home Gadgets like the Google Home Mini for $29 ($20 savings) with a $25 shopping offer***, a Night Owl 4-Camera HD Security System Kit for $150 (special buy) and a Netgear Orbi AC2200 Tri-Band Whole Home Wi-Fi System for $199 ($80 savings)
Laptops and Tablets such as the HP Stream Laptop for $179 ($40 savings), Samsung Chromebook 3 for $119 ($70 savings) and iPad 5th Gen 32GB for $249 ($80 savings)
Top titles for film fanatics and gamers, totaling more than 700 DVDs and Blu-ray movies starting at $1.96 and more than 100 video games starting at $9
Wireless deals including Bluetooth speakers like the JBL Flip 3 for $55 (special buy), Fitbit Alta HR Small Bundle or Fitbit Charge 2 Large Bundle for $99 (both a $50 savings) and Tzumi Pop Solo Karaoke Microphone and Bluetooth Speaker for $7 ($7.96 savings)
Drones and Virtual Reality like the Yuneec Breeze Drone for $199 ($100 savings), an exclusive Promark Shadow Drone with GPS for $99 ($80 savings), ONN Mobile VR Headset for $5 ($4.88 savings) and Merge Cube for $9 ($5.97 savings)
Smartphones such as the iPhone 6 32 GB on Straight Talk Wireless**** for $129 ($70 savings), the iPhone SE 32GB on Walmart Family Mobile for $99 ($30 savings) and the Samsung Galaxy J7 Sky Pro on Straight Talk Wireless**** for $49 ($100 savings)
Sleepwear for the Family including boys' and girls' licensed character sleepwear starting at $4.75 (special buy), plush sleep pants for women at $4.50 (special buy), men's graphic fleece sleep pants for $6 (special buy) and cozy slippers for the family starting at $4.75
Home Stylings offers include $9.88 kitchen appliances like a Farberware Griddle and Crock-Pot 5-Quart Slow Cooker, as well as Walmart's exclusive 30-Piece Cookware Set for $94 from The Pioneer Woman (special buy). Additional home items include Hotel Style 1,100 Thread Count Sheet Set for $24 (special buy), Character 5-Piece Twin Bed-in-Bag for $25 (special buy) and Dyson DC59 Stick Vacuum for $189 (special buy)
Beyond the Basics such as a Protégé 5-Piece Luggage Set for $48 (special buy), Ozark Trail 4-Person Instant Tent for $38 (special buy), Masterbuilt 30-inch Digital Electric Smoker for $99 (special buy), Stanley 2-Drawer Tool Chest with 100-Piece Black Chrome Mechanics Tool Set for $49 (special buy) and Projection Light Show for $8.87 (special buy)
Select online-only deals include a Straight Talk Samsung GS6 for $149.99 ($150 savings), a Samsung 65-inch Class 4K HDTV for $847.99 ($450 savings) and a SoundTouch 30 WIFI speaker for $449 ($50 savings)
An Easy and Jammin' Experience
When the clock strikes 6 p.m. local time, associates and customers will kickoff the biggest shopping event of the season.
This year, Walmart is helping customers save time when they shop by introducing color-coded departments in stores. Key departments, like electronics, toys, home, apparel and hardlines will be color coded in the Black Friday event circular and on Walmart's popular store maps, available on the Walmart app starting Nov. 14 and in stores on event night, making it visually easier for customers to navigate to the deals. Customers can look for balloons, signs and associates in the vest color they need for guidance and direction during the event.
In addition, Walmart's Holiday Helpers will be on-hand to greet customers, distribute store maps and help shoppers find top products. Holiday Helpers will be easy to spot wearing reindeer hats and headbands.
Rockin' Deals Start Today
For customers who can't wait to shop Walmart's Black Friday deals, the retailer is offering access to select rockin' deals now on Walmart.com. Deals will be available on Nov. 9 through Nov. 12 or while supplies last. Highlights include:
Acer Aspire ES Laptop for $449 ($80 savings)
RCA Galileo Pro 2-in-1 Tablet for $87.99 ($92 savings)
Sky Rider Falcon 2 Pro Drone for $29.97 ($8.12 savings)
Xbox One S Console Bundle for $249 (special buy)
X Rocker Dual Commander Gaming Chair for $99 ($100 savings)
MDSports 4-Piece Table Tennis Set for $99 ($63 savings)
Kingsford 32-inch Charcoal Grill for $99 ($39 savings)
American Plastic Toys Deluxe Custom Kitchen for $35 ($10 savings)
Mega Bloks 250-Piece Tower for $20 ($29.97 savings)
For more information, please visit http://news.walmart.com/.
*Customers should check local stores for hours.
**Deals available while supplies last. No rain checks.
***Available in the contiguous United States only. Device must be activated between October 4, 2017 and January 15, 2018 to qualify. Coupon expires January 31, 2018. Coupon will be automatically issued after linking account to Walmart.com. Valid only for Walmart orders on Google Express. Only two (2) coupons per household. Unused coupon amount doesn't carry over.
****Phones and plans sold separately. Carriers, coverage and products may vary by store. A compatible phone or plan is required. Not all features work on all pones and in all areas. Subject to carrier terms and conditions. State and local taxes/fees, international calling, coverage costs, prohibited usage rules, and other restrictions apply. See store for details.