Wendy's Smoky Mushroom Bacon Cheeseburger
Can't get enough of Wendy's fresh beef? Say no more! Wendy's is introducing what could be the most craveable cheeseburger to hit fast food menus. The new Smoky Mushroom Bacon Cheeseburger and Baked Potato takes deliciously different to a whole new level.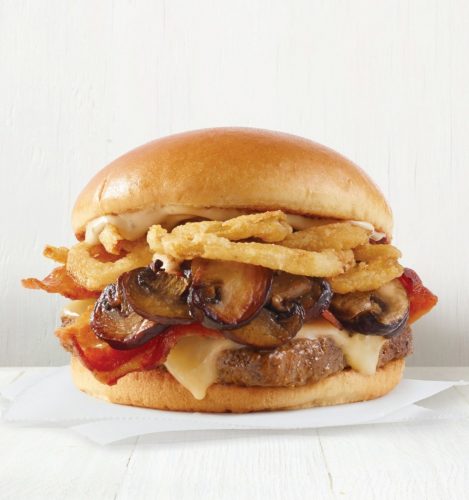 Wendy's never-ending passion to serve the best hamburgers in the business extends beyond fresh beef1. The Smoky Mushroom Bacon Cheeseburger has every flavor you could crave on one bun, featuring smoky, sautéed portabella mushrooms, melted asiago cheese, crispy Applewood smoked bacon and crunchy fried onions atop of juicy, fresh never frozen beef (#duh). For those craving the same great taste sans beef, Wendy's Smoky Mushroom Bacon Potato is loaded with sautéed portabella mushrooms, cheddar cheese sauce and crispy Applewood smoked bacon.
Check out Wendy's The Square Deal Blog for the inside scoop on what inspired this delectably craveable sandwich.
Guests can purchase the Smoky Mushroom Bacon Cheeseburger for $4.992 and the Smoky Mushroom Bacon Potato for $2.992. Both menu additions will be available for a limited time, so savor it while you can!
1 Fresh beef available in the contiguous U.S., Canada, and Alaska.
2 At participating locations. Prices may vary.
For more information, visit www.aboutwendys.com