ASUS ZenFone AR – World's first Augmented Reality (AR) and Virtual Reality (VR) Smartphone
ASUS announced the availability of the ZenFone AR – a next-generation smartphone that represents a significant advancement in mobile virtual and augmented reality technologies. The ZenFone AR is the world's first smartphone that supports both Tango AR and Daydream VR technologies developed by Google, giving users totally new ways to engage with and be entertained by their smartphones. In the United States, two unlocked versions of the ZenFone AR will be available; a 6GB RAM configuration with 64GB storage, and a second with 8GB RAM and 128GB storage.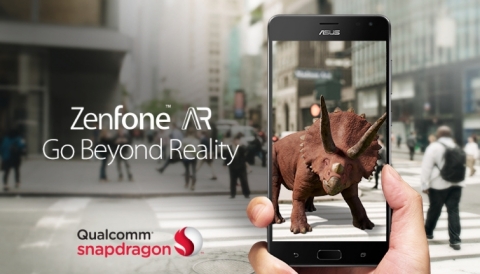 8 GB RAM Smartphone with the Qualcomm® Snapdragon™ 821 Mobile Platform
To create the best-in-class VR and AR smartphone, ASUS engineered the ZenFone AR with latest, top-of-the-line components. The ZenFone AR is equipped with 8GB of RAM and includes the Snapdragon 8211 Mobile Platform; specially optimized for AR operations and unparalleled multi-tasking. ASUS worked closely with Qualcomm Technologies engineers and Google to efficiently distribute computer vision workloads, as well as rapidly process movement and positioning instructions by Tango that is known as six degrees of freedom, or "6DoF" (forward-backward / up-down / left-right / roll / pitch / yaw).
The desktop-class Qualcomm® Adreno™ 530 graphics processing unit (GPU) is designed to deliver supercharged graphics performance, allowing the ZenFone AR to handle the graphics demands of Tango and Daydream with ease. Complementing the rich AR & VR experiences offered by ZenFone AR is a new audio system that supports Hi-Res Audio and DTS virtual surround sound. External audio also gets a boost with the ZenFone AR's new ultra-loud 5-magnet speaker.
"The Zenfone AR represents a significant achievement for ASUS in North America," said Mike Finley, senior vice president, and president, Qualcomm North America and Australia. "Powered by the Snapdragon 821 Mobile Platform, the ZenFone AR is the first announced device to bring both AR and VR capabilities to consumers."
Engineered for the Latest Tango and AR Experiences
ASUS ZenFone AR was developed in close cooperation with Google to deliver the best user experience on both Tango and Daydream platforms. Tango, an augmented reality (AR) platform that uses qualified devices to detect their users' positions relative to places and objects around them without using GPS or other external signals, allows application developers to create AR user experiences that include indoor navigation, 3D mapping, and environmental recognition, among other augmented reality applications. To date, there are already over 35 apps on Google Play2 that are Tango compatible. ASUS and Google are also partnering with well-known brands to bring the Tango AR experience to customers.
Ideal for AR and VR
To qualify as a Tango-enabled smartphone, ZenFone AR features a set of sensors and "computer vision" software that gives it the ability to interpret images, videos, space and motion like humans. Tango adds three new abilities to ZenFone AR: motion tracking, depth perception and area learning. Through these capabilities, ZenFone AR can detect how far it is away from a floor, wall or an object and understand where it is moving in three-dimensional space.
For VR, the large, high resolution and high contrast display of ZenFone AR makes it ideal for VR applications when used as a VR display mounted in the Daydream View headset. The Daydream hardware also comes with a controller that is used for VR games and apps. ZenFone AR's expansive 5.7-inch size immerses the viewer in whatever VR world is being presented, while the WQHD (1440 x 2560) resolution presents images with extreme clarity and the deep black hues enabled by the high contrast super AMOLED technology enhances the 3D effect of the screen.
High-End Photographic Capabilities
The ZenFone AR is also an accomplished camera smartphone, and contains the ASUS PixelMaster 3.0 camera system that includes the world's highest resolution Sony IMX318 sensor and TriTech Autofocus system. Other key camera features include: 4-axis OIS photo and 3 axis EIS video stabilization, Super Resolution, Low Light, and a variety of optimized presets modes, as well as manual creative controls to provide photographers advanced control of the ZenFone AR's camera to suit any need. Lastly, high resolution 4K video recording allows for ultra-detailed videos.
AVAILABILITY & PRICING
In the United States two unlocked configurations is available at online retailers.
6GB RAM and 64GB storage for MSRP $599.
8GB RAM and 128GB storage for MSRP $699.