Office Depot Elf Yourself App Returns with New Augmented Reality Technology
The jolly elf is a beloved icon of the holiday season. And this year, one of the most popular mainstays of holiday elf culture, Office Depot's Elf Yourself® is back and better than ever with new augmented reality (AR) features¹ that will allow users to create holiday greetings with an even greater level of creativity and personalization.
The AR features are easy to use – with a simple tap, you can have Santa's little helpers rocking out on the screen of your phone as your friends and family dance alongside them. And this year you can turn your favorite frame into a custom holiday card, which can be easily ordered from any Office Depot or OfficeMax print center in store, online or through its mobile app. "You can really get creative – now that you can use any background you capture on your phone, the possibilities are endless," said Malaszenko. "We can't wait to see what #ElfYourself creations people will come up with this holiday season."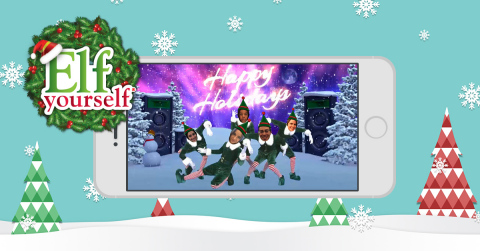 Beyond the new AR features, you can expect to see all your favorite dances back this year joined by three fresh scenes. Mischievous elves are sneaking out of Santa's workshop for some fresh air and sightseeing – shimmying under the Northern Lights in a magical winter wonderland. Back at Santa's Workshop, elves are taking care of business, prepping for the big day with a little pep in their step.
For those gearing up for Hanukkah, Office Depot is teaming up with the Mensch on a Bench for another great Hanukkah dance. The Jewish a cappella group Six13 will be singing sweet tunes as Moshe the Mensch gets down with a street style dance-off.
"The Mensch on a Bench is thrilled to team up with Elf Yourself for the third year in a row to develop a fun new tradition for Jewish families," said Neal Hoffman, creator of Mensch on a Bench. "Turning yourself into a mensch and dancing to Dreidel Dreidel Dreidel is guaranteed to bring smiles to everyone's faces – just in time to celebrate Hanukkah!"
Since the inception of Elf Yourself® in 2006, 1.5 billion elves have been created and over 564 million sessions globally. The updated app is available to download today at elfyourself.com or through your mobile app store. To create videos with Elf Yourself®, users simply upload up to five photos from either their camera roll, Facebook or taken on the app, select a dance theme, and the app generates a custom Elf Yourself® video to share with friends and family via email and social media platforms, as well as embed into websites and blogs.
1 On AR enabled devices. Compatible with iOs 6S or higher and select Android devices