Bojangles' Cajun Filet Biscuit
In 1986, shoulder pads were in, gas was under 90 cents a gallon, and Bojangles' (NASDAQ: BOJA) served the very first one-of-a-kind Cajun Filet Biscuit®, which we're pretty sure our customers thought was like, totally radical, dude.
While most fads and phrases from the 1980s have faded away, passionate Bojangles' fans and new biscuit lovers alike continue to crave that bold, flavorful combination for breakfast, lunch and dinner. Our unique, Cajun-spiced chicken breast filet is served between a Bojangles' signature made-from-scratch buttermilk biscuit. Nobody out there makes it like us and you can get two of these amazingly delicious biscuits for just $5 at participating locations.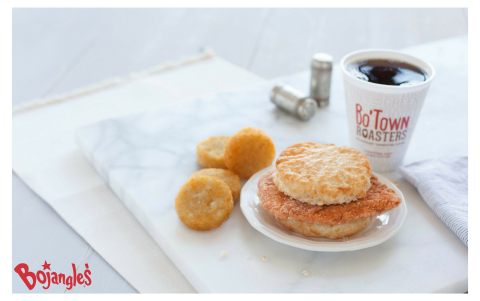 "We are proud of all our menu items, but the Cajun Filet Biscuit defines what the Bojangles' brand is all about," said Randy Poindexter, Senior Vice President of Marketing for Bojangles'. "We're about bringing our loyal customers flavorful, Cajun-inspired chicken and hot, fresh buttermilk biscuits. Grab a friend or family member, head to Bojangles' and savor this incredible 2-for-$5 offer on the one, the only Cajun Filet Biscuit today."
Did you know that it could pay to eat Cajun Filet Biscuits? Share your most creative beauty shot of your next Cajun Filet Biscuit on Instagram, tagging #CajunFiletContest. Five photos will be selected as finalists. If your photo gets the most votes, you'll win $1,000. Additionally, beginning this week through June 7, three random entries into our Cajun Filet Contest will win a $25 Bojangles' gift card every week. Learn more on http://CajunFiletContest.com.
All prices mentioned do not include applicable taxes. Remember, pricing and participation in this promotion may vary by location.