Delight Your Guests with a Bojangles' Seasoned Fried Turkey
Who wants to play host and chef this Thanksgiving? This year, leave your turkey day to Bojangles' . We'll take care of everything, starting with our family favorite, the one-of-a-kind Bojangles' Seasoned Fried Turkey.
If you've talked to someone who's had our turkey, chances are you hear words like amazing, succulent and blissful. Serving up to eight family members, our Seasoned Fried Turkey is a fully cooked heat-and-serve product, prepared using Bojangles' proprietary seasoning. Oven-baked then fried, the turkey is then vacuum-sealed and frozen to lock in freshness and that authentic, Cajun-inspired flavor you must taste to believe.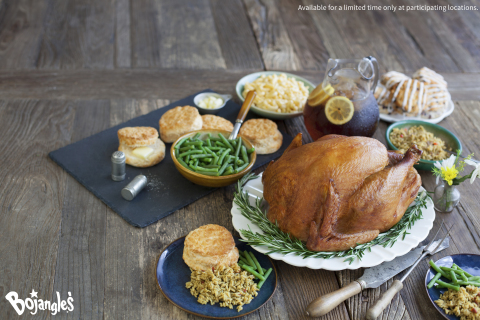 Here's the thing. We're probably going to run out of turkeys. This happens when you're selling something so darned good. Make sure it doesn't happen to you by pre-ordering a turkey from your local participating Bojangles' today.
You can also create an amazing Thanksgiving when you add Bojangles' holiday favorites like our Mashed Potatoes and Gravy, Green Beans, Bojangles' Cajun Pintos®, Mac 'n Cheese, Bojangles' Dirty Rice®, and of course, our made-from-scratch buttermilk biscuits. And for dessert, try Bojangles' hidden gem – our individual baked sweet potato pies.
Once Thanksgiving is done, what are you going to do with that fridge full of leftovers? Visit The Spork Report to learn how you can turn leftovers into recipes that may just become your post-Thanksgiving family tradition.
Visit www.Bojangles.com or download Bojangles' BoRewards app (available in the Apple App Store and Google Play store) to find your nearest Bojangles' location. Pricing for Bojangles' Seasoned Fried Turkey begins at $39.99 at participating locations only. Pricing and participation may vary by location.