Long John Silver's Discovers Gold on the Menu with Hostess Deep Fried Twinkie
Long John Silver's is testing the waters with gold on the menu – fried golden sponge cake to be exact. America's favorite seafood restaurant launched the Hostess® Deep Fried Twinkie™ in two test markets this spring and is expected to launch the classic treat to the rest of the country in the coming months.
"What's going to make Long John Silver's menu more crave-able? Adding the Deep Fried Twinkie to our menu!" said Katie Rooprai, Vice President of Brand Marketing for Long John Silver's. "We know from decades of experience that people crave our food. They will pass several other restaurants to satisfy their Long John Silver's craving. We think the Deep Fried Twinkie™ will be the perfect sweet ending for those making the trip."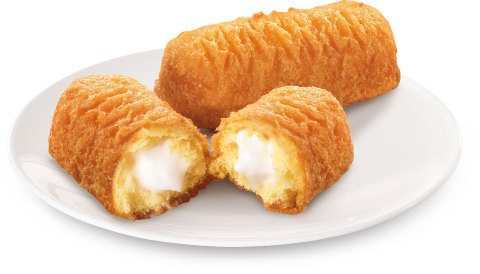 This lightly battered traditional Hostess® Twinkie™, filled with fluffy, sweet vanilla cream is deep fried to perfection. The hot and decadent treat is currently a limited time offer only available in Pittsburgh and St. Louis at participating locations for 99 cents until July 23.
The country's largest quick-service seafood restaurant expects to share the sweet treat with other locations later this year.